Headshots OnLocation
Thank you for visiting Orange County Headshots regarding your company's Headshots OnLocation.
Though a fully-equipped professional studio is ideal for headshot portrait sessions, we realize it's not always practical for corporate teams to convene at our location. This is why in 1981 we began to specialize in corporate Headshots OnLocation. Along the way I was fortunate to be inducted as permanent exhibitor into the International Photography Hall of Fame and have become Orange County's go-to headshot photographer.
We take the time and give you the personal attention required to portray your team at their best. A quick visit to our REVIEWS will give you a sense of why our clients so pleased with our work. They tell us they're not only elated with their headshots, but with our service, options and price.
Orange County Headshot's OnLocation Services INCLUDE:
• Headshot Session with Mark Jordan.
• Digital Files cropped, sized, ready for Web posting.
• Retouching – we offer 3 options from which to choose.
• Locations within Orange County are all at same price.
• Lighting options offered for either your Facility or our Studio backdrops.
• Online Previews posted within 24 hours for you to view at your convenience.
• Lifetime Guarantee – quality, adjustments & tweaking.
---
THE 6 ESSENTIAL COMPONENTS TO HEADSHOTS ONLOCATION
Whether scheduling headshots in a Studio or OnLocation, there are 3 Essential Components to consider regarding ANY Headshot Session:
1. Session
2. Digital File
3. Retouching
When scheduling Headshots OnLocation, 3 Additional Components also need to be considered:
4. Location
5. Background
6. Lighting
---
NEXT: now that we have identified the SIX essential components to Headshots OnLocation, we need to discuss the pricing of each.
1. 2. 3. PACKAGE PRICING
PACKAGE PRICING INCLUDES the first 3 essential components to ANY headshot:
1. SESSION – photographed by Mark Jordan
2. DIGITAL FILE – digital Web file ready for internet posting
3. RETOUCHING – includes raw file conversion and ExPress Retouching
PACKAGE PRICING for the 3 essential components is regularly $125 per person.
However, when creating multiple Headshots OnLocation (at least five), we offer substantial discounts:
05 – 09 Headshots = $ 95 per person
10 – 19 Headshots = $ 90 per person
20 – 29 Headshots = $ 85 per person
30 – 39 Headshots = $ 80 per person
40 – 49 Headshots = $ 75 per person
50 – 59 Headshots = $ 70 per person
60 – 69 Headshots = $ 65 per person
70 – 79 Headshots = $ 60 per person
80 – 89 Headshots = $ 55 per person
90 – 99 Headshots = $ 50 per person
100 Headshots Plus = $ 45 per person
———————–
4. LOCATION
ALL locations within Orange County are priced the same and include Travel and Time expense.
A. INSIDE Orange County – $185
B. OUTSIDE Orange County: Please contact us for a personalized quotation.
C. EXTENDED Travel: Please contact us for personalized quotation.
———————–
5. BACKGROUND
By its very nature, Headshots OnLocation are divided into TWO Background Choices, your Facility (interior or exterior), or a professional Backdrop:
A. FACILITY – $0: encompasses either your facility's interiors (spaces of walls & windows) or its surrounding exteriors (building & landscaping).
B. BACKDROP – $0: entails assembling a 6′ professional backdrop within your facility location.
Included at NO CHARGE with ANY of our lighting options.
———————–
6. LIGHTING
Before you can tabulate a complete price for your Headshots OnLocation, you will need to decide on the quality of lighting that best meets your needs. We offer 3 possible lighting scenarios, all at No Charge with low minimum requirements:
A. FLASH – $0 – No Minimum Headshots.
• Natural Light with On Camera Flash, ideal for a candid, illustrative look.
B. HYBRID – $0 – 5 Headshots Minimum. Or $175 with less than 5.
• Encompasses Natural Light with ONE Studio Light Strobe, for a contemporary feel.
C. STUDIO – $0 – 10 Headshots Minimum. Or $350 with less than 10.
• Includes full Studio Assembly with THREE Light Strobes and Backdrop, for a traditional headshot feel.
Following are Image Samples of our Three Lighting Options:
---
---
---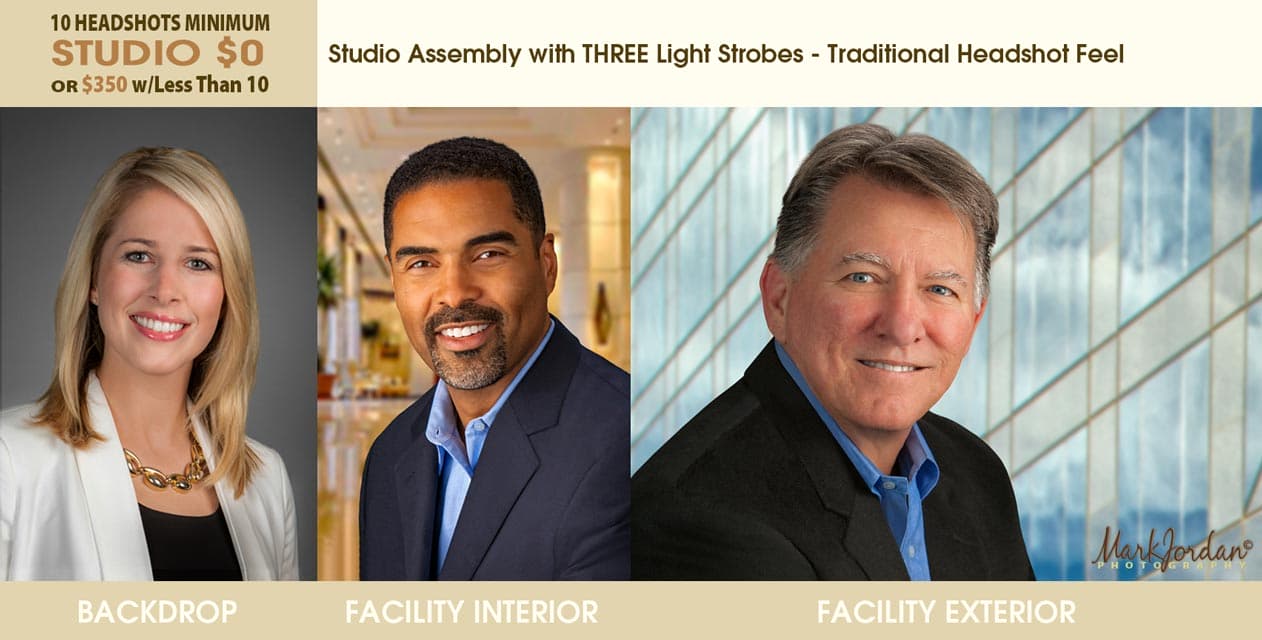 When opting for us to assemble STUDIO LIGHTING at your location with BACKDROP, an empty space of 10×12 feet with an 8-10 foot ceiling is preferred.
Should you'd like to discuss the pros and cons of either aesthetic, simply let us know and we'll be happy to advise.
---
As always, should you have questions regarding any aspect of Headshots OnLocation, no concern is too small.
Mark Jordan
Master Craftsman Photographer
American Society of Photographers
International Photography Hall of Fame & Museum
Orange County Photographer of the Year
3-Time Honoree -EPCOT'S World's Greatest Photographers Exhibit
---
When looking for a professional County Headshots Photographer please call 949-888-8071 or complete our online request form.
---
Headshots OnLocation