Today's Headshot Challenge 104 – Mark Jordan's Approach To Retouching
Today's Headshot Challenge 104 is repairing a poorly crafted corporate headshot of an executive that I did NOT photograph. My assignment was to make both image and man look professional. Tall order.
Please keep in mind that I had already photographed eight of my client's executives in my headshot studio in Rancho Santa Margarita. Thankfully, they were elated with the results.
My client had stipulated that I use two different backgrounds for their sessions – a seamless gray and a GreenScreen. While the gentlemen were photographed with and without ties (which you can see below in the "after" section), the lone lady wore just one outfit. No sooner were their corporate headshots delivered to them when I received a phone call from the corporation's AD asking for a special favor. Though he tried to sound calm and collected, I could sense he was is S.O.S. mode.
The AD, Tom, explained to me that the one executive from Texas, who was to scheduled to fly in the following week, had a change in plans. He would be unable to show for his corporate headshot session in Rancho Santa Margarita. Furthermore, he had been instructed to arrange for a headshot session with a professional photographer in Texas.
Regardless of giving their photographer precise instructions of what they required, as well as samples of the images I had designed for them, the photographer's efforts fell short – as in about fifty yards shy of the runway…
Below, marked "Before," is a his finished image, including their finest retouching.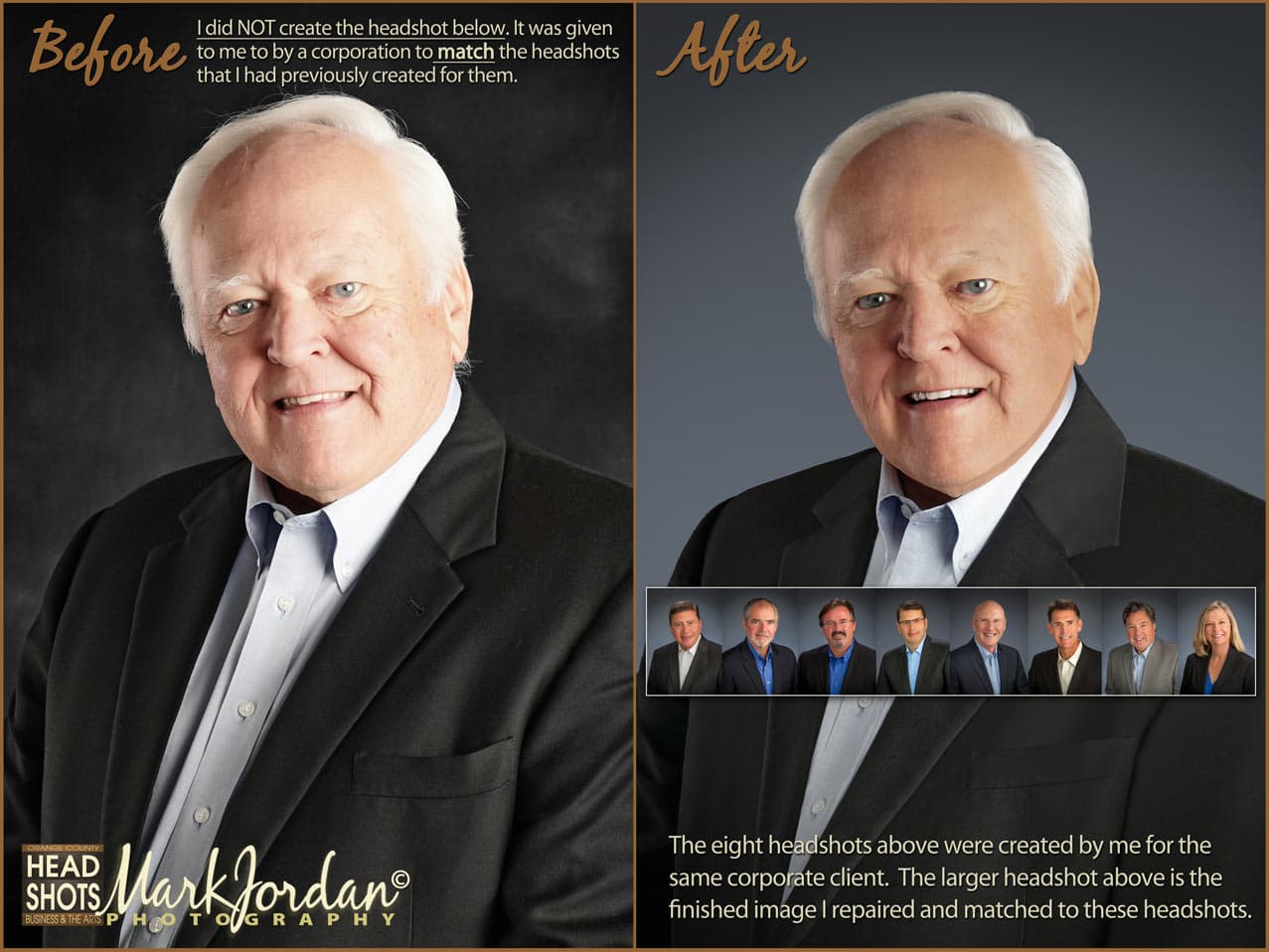 As you can see, I had my work cut out for me.
The primary retouching challenge to Today's Headshot Challenge 104 is taking a poorly lit, overexposed photograph, and matching it to the corporate headshots I had already created for them.
Though the problems with the image might seem fully apparent, one not so noticeable feature was the image was treated with both a high contrast and sharpening filter. The exacting detail on his face was something best suited for forensic photography. This, coupled with the unforgiving hatchet lighting, made my job all the more daunting.
On top of this, the AD told me the executive wanted to be "thinned down" and he would very much appreciate having a "neck." Duly noted.
I have to say thatToday's Headshot Challenge 104 was one of the most difficult I've done. Since nearly all the retouching I perform daily is on my own work, I take great pains to ensure that the foundation from which my work emanates is sound. Attempting to correct and build upon a foundation that is decidedly inadequate, and on top of what would otherwise be a resounding reject, was something I hadn't given any consideration. Regardless, I was ready for the challenge and dug in with gusto!
For you retouchers out there who might want to know my technique for restoring skin tone, I like to use a combination of brush tool modes: normal, lighten, darken, color and saturation. I also sample skin tone color frequently in small local selections so that I've recreated a natural, continuous skin tone we would expect to see from a closeup, large light source.
Today's Headshot Challenge 104 additional retouching details:
Background: remove black and replace with gray seamless to match clients 8 headshots.
– vignette gray to yield darker top with gradient lighter toward bottom.
Hair: remove few wild hairs, lightly fill, add detail, and darken.
Forehead: soften wrinkles and shine, remove stray hair & dry skin, soften, darken and color.
Nose: even skin tone, remove dry skin, reduce hump, soften, darken and color.
Facial Shine: soften and remove.
Skin Tones: even tones overall, balance contrast, remove dry skin, soften, darken and color.
Eyebrows: darken, and add detail.
Eye Whites: remove artifacts, red, and water, and darken.
Catchlights: remove 2nd light, fill iris edge with iris color caused by main.
Ears: soften, darken, remove stray hairs, and remove his right lobe.
Blemishes: remove and soften.
Lips: remove dry patches, soften lines, darken and define.
Teeth: lessen yellow, even edges, remove particles and blend white tones.
Tongue: remove by darkening and desaturating.
Chin: soften wrinkles, darken and soften.
Neck: remove skin over collar, soften skin, remove hairs, and darken/define neck under jowls.
Collar: straighten, thin, darken and even blue.
Shirt: fill shadows, color buttons, and even blue
Jacket: narrow opening, fix pocket, even contours, fill shadows/wrinkles, improve fit and thin.
Skin Texture/Clarity: soften/blur 28%.
Face: thin jowls and neck
Contrast: HRD 18% overall and 32% mask of face.
Should you have ANY questions regarding any aspect of Today's Headshot Challenge 101, please know that no concern is too small.
---
Mark Jordan
Master of Photography
Photographic Craftsman
International Photography Hall of Fame & Museum
EPCOT Center World's Greatest Photography Award
Family Portrait of Excellence & Dedication Award
International Loan Collection Award – 11 Time Recipient
Portrait Photographer of Excellence Award – America, Norway & Germany
Orange County Photographer of the Year
American Society of Photographers
---
Today's Headshot Challenge 104
---
PRIMARY AREAS SERVED FOR BUSINESS PORTRAITS HEADSHOTS
Orange County Headshots Photographer, Mark Jordan Photography is internationally recognized,
and serves all of Southern California, including San Diego County, Los Angeles, and the Inland Empire.
For over three decades, Mark Jordan Photography (Orange County Family Portraits and Orange County Headshots) has served and created family portraits and headshots for the cities of Aliso Viejo, CA | Anaheim, CA | Brea, CA | Buena Park, CA | Corona del Mar, CA | Costa Mesa, CA | Coto de Caza, CA | Cypress, CA | Dana Point, CA | Dove Canyon, CA | Fountain Valley, CA | Fullerton, CA | Garden Grove, CA | Foothill Ranch, CA | Huntington Beach, CA | Irvine, Ladera Ranch, CA | Laguna Beach, CA | Laguna Hills, CA | Laguna Niguel, CA | Laguna Woods, CA | Lake Forest, CA | Los Alamitos, CA | Mission Viejo, CA | Newport Beach, CA | Orange, Placentia, CA | Rancho Mission Viejo, CA | Rancho Santa Margarita, CA | Robinson Ranch, CA | San Clemente, CA | San Juan Capistrano, CA | Santa Ana, CA | Seal Beach, CA | Shady Canyon, CA | Trabuco Canyon, CA | Turtle Rock, CA | Tustin, CA | Tustin Ranch, CA | Villa Park, CA | Westminster, CA | Rancho Mission Viejo, CA | Yorba Linda, CA
---
When looking for an Orange County Headshots Photographer OR a professional Orange County Family Portraits photographer, please call 949-713-4050 or complete our online request form.