On-Location Lighting
Studio vs Available Light – Which Approach is Best for You?
Thank you for visiting Orange County Headshots regarding your company'sOn-Location Lighting.
We began offering the choice of Studio and Available lighting for our on-location headshot sessions way back in 1981. Since both Commerical and Theatrical headshots benefit from either approach, selecting which lighting style is most appropriate for your headshot session is not a matter of right vs wrong, but rather choosing the style you like most.
Limiting the options to two basic choices also makes it easy: a professionally assembled portrait studio or employing the available light that is either in or around your company facility. And if you are uncertain as which direction to go or have any questions along the way, we're to help you every step of the way.
BRIEF WORD ABOUT TERMS
Available LIght
Available Light simply means we will be employing the natural, ambient light present. Typically, clients opt for Available Lighting when they want their headshots created outdoors. However, you can also opt for Available Lighting indoors. In either instance, we will be using on-camera flash to bounce a small pop of light to balance the lighting and fill-in a percentage of the shadows.
STUDIO LIGHTING
Studio Lighting requires the assembly of a portrait studio at your location.
• The Studio Assembly Fee of $350 includes FOUR (4) LIGHTS: Main, Fill, Separation, and Background.
The typical cost of adding a location to your headshot is simply the Location Fee ($185).
With that in mind, let's now segue into the specifics of adding a location to your headshot. Here you go.
---
THE 3 ESSENTIAL COMPONENTS TO ADDING HEADSHOTS ON-LOCATION
When scheduling Headshots OnLocation, there are 3 Essential Components that need to be considered:
1. Location
2. Background
3. Lighting
———————–
1. LOCATION • $185
ALL OFFICE locations within Orange County are priced the same and include Travel and Time expense.
A. INSIDE Orange County – $185
B. OUTSIDE Orange County: Please contact us for a personalized quotation.
C. EXTENDED Travel: Please contact us for a personalized quotation.
———————–
2. BACKGROUND • $0
By their very nature, Headshots On-Location are divided into TWO Background Choices:
1. The Interior or Exterior of your Office Facility/Venue.
2. One of our professional Backdrops.
All we ask of you is to inform us which background you are considering. Both are offered at no charge:
A. FACILITY/VENUE: encompasses either your facility's interiors (walls & windows) or its surrounding exteriors (building & landscapes).
B. BACKDROP: entails assembling a 6′ wide professional backdrop within your facility location, which is included at NO CHARGE with ANY of our lighting options.
———————–
3. LIGHTING • $0 or $350
Before you can tabulate a complete price for your adding a location to your headshot, you will need to decide on the quality of lighting that best meets your needs. We offer 2 possible lighting scenarios:
A. NATURAL Lighting – $0
• Available Light with On-Camera Flash, ideal for a contemporary, casual headshot look.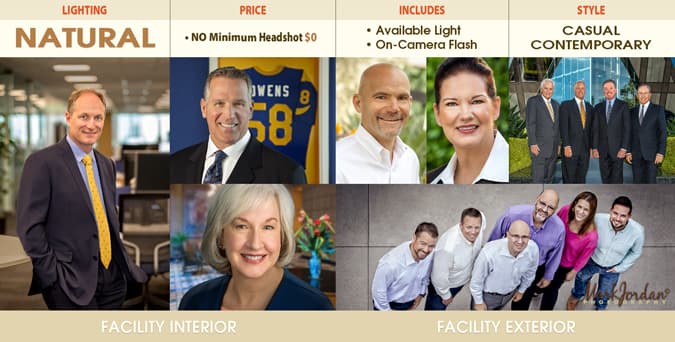 B. STUDIO Lighting – $350
• Complete, onsite Studio Assembly includes 4 Strobes and Backdrop (for a traditional headshot feel):
• Each individual person photographed, in the same outfit, counts as one headshot.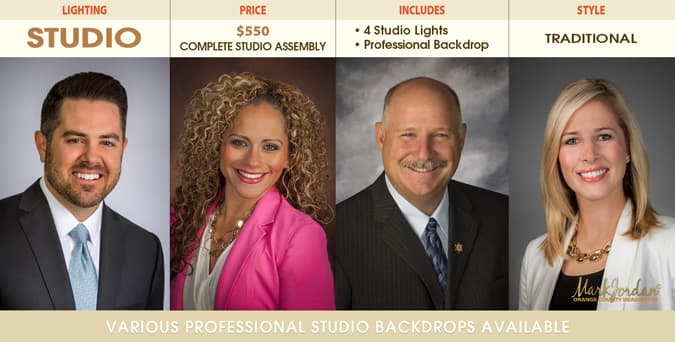 When opting for us to assemble STUDIO LIGHTING at your location with BACKDROP, an empty space of 10×12 feet with an 8-10 foot ceiling is preferred.
Should you'd like to discuss the aesthetic pros and cons of our options, simply let us know and we'll be happy to advise.
---
Orange County Headshot's OnLocation SERVICES INCLUDE:
Headshot Session with Lorin Backe.
Digital Files cropped, sized, ready for Web posting.
Retouching – we offer 3 options from which to choose.
Locations within Orange County are all at the same price.
Lighting options offered for either your Facility or our Studio backdrops.
Online Previews posted within 24 hours for you to view at your convenience.
Lifetime Guarantee – quality, adjustments & tweaking.
---
The 3 Universal Elements to ANY Headshot – Revisited
Adding a location to your Headshot is not complete until we also revisit the 3 Universal Elements to ANY Headshot. Whether scheduling your headshot in our Studio or at your OnLocation, thefundamental ingredients to creating any headshot are:
Session: the photographic time required to "take" your portrait
Digital File: the purchased product or image you need for posting online and/or publishing
Retouching: the post-production alterations to make you look your best and natural
Please familiarize yourself with these three components in our All-In-One FasTrak Packages.
Should you require multiple headshots for your staff, business partners or corporation, please be sure to check out our Discounted Headshot Packages in the Multiple Headshots Pricing Chart.
---
As always, should you have questions regarding any aspect of On-Location Lighting, no concern is too small.
Mark Jordan
Master Craftsman Photographer
American Society of Photographers
International Photography Hall of Fame & Museum
Orange County Photographer of the Year
3-Time Honoree -EPCOT'S World's Greatest Photographers Exhibit
---
On-Location Lighting
Contact Us Today
When looking for a professional Orange County Headshots Photographer please call 949-713-4050 or complete our online request form.