Headshot Package Pricing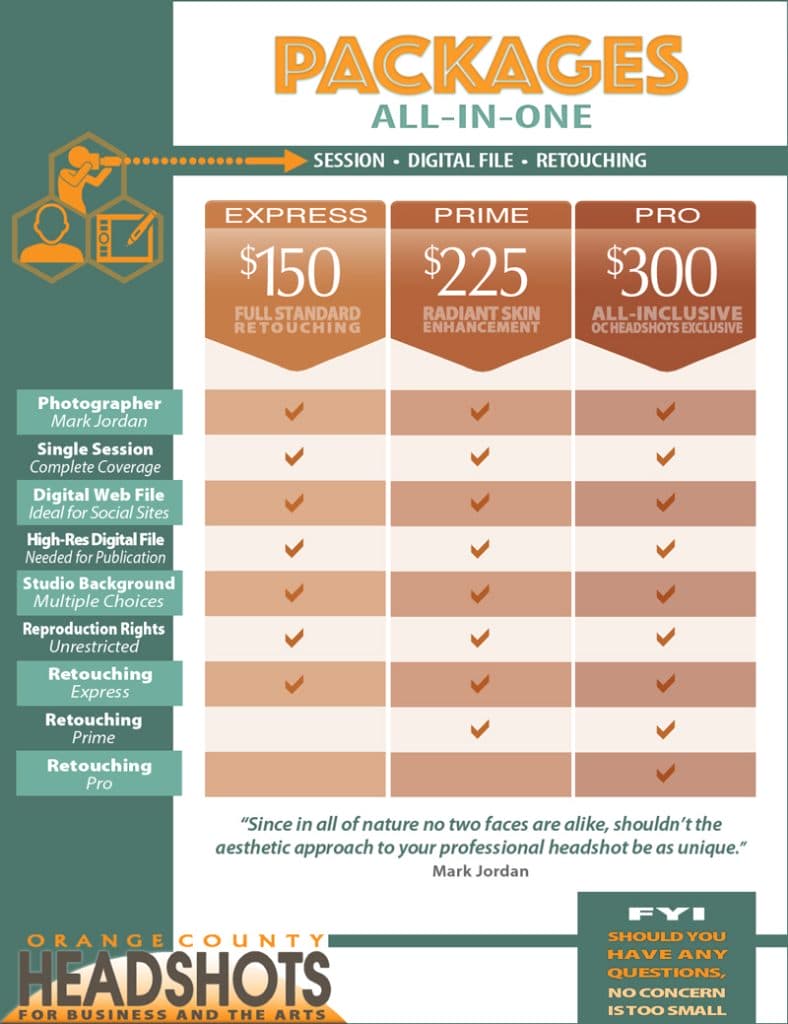 ---
All-In-One Packages
BRIEFLY: universally, headshot package pricing is comprised of 3 Essential Components.
Session – you need to be photographed.
Digital File – you need an image (i.e., your "headshot").
Retouching – you need some degree of "touchups" to render a natural-looking face.
Our All-In-One, Headshot Package Pricing simply clusters these three essential ingredients and offers them in a single, convenient "package."
If you're like so many with busy schedules and simply require the bottom-line, our Headshot Package Pricing INFOGRAPHIC above will get you on your way quickly. On the other hand, if you prefer more detailed information, simply continue reading. And if you thirst for even more, click this link to the Complete Picture to Headshot Pricing.
---
NEED MORE DETAIL?
Do you require more detail on what exactly our All-In-One Headshot Packages include? If so, the following chart will meet that need.
For each of our listed THREE HEADSHOT PACKAGES, we simply list what's included. Every component is itemized from Mark Jordan being your personal photographer and performing post-production work to describing every detail of retouching. Remember, you asked for it.
As always, should you have any questions, please know that no concern is too small.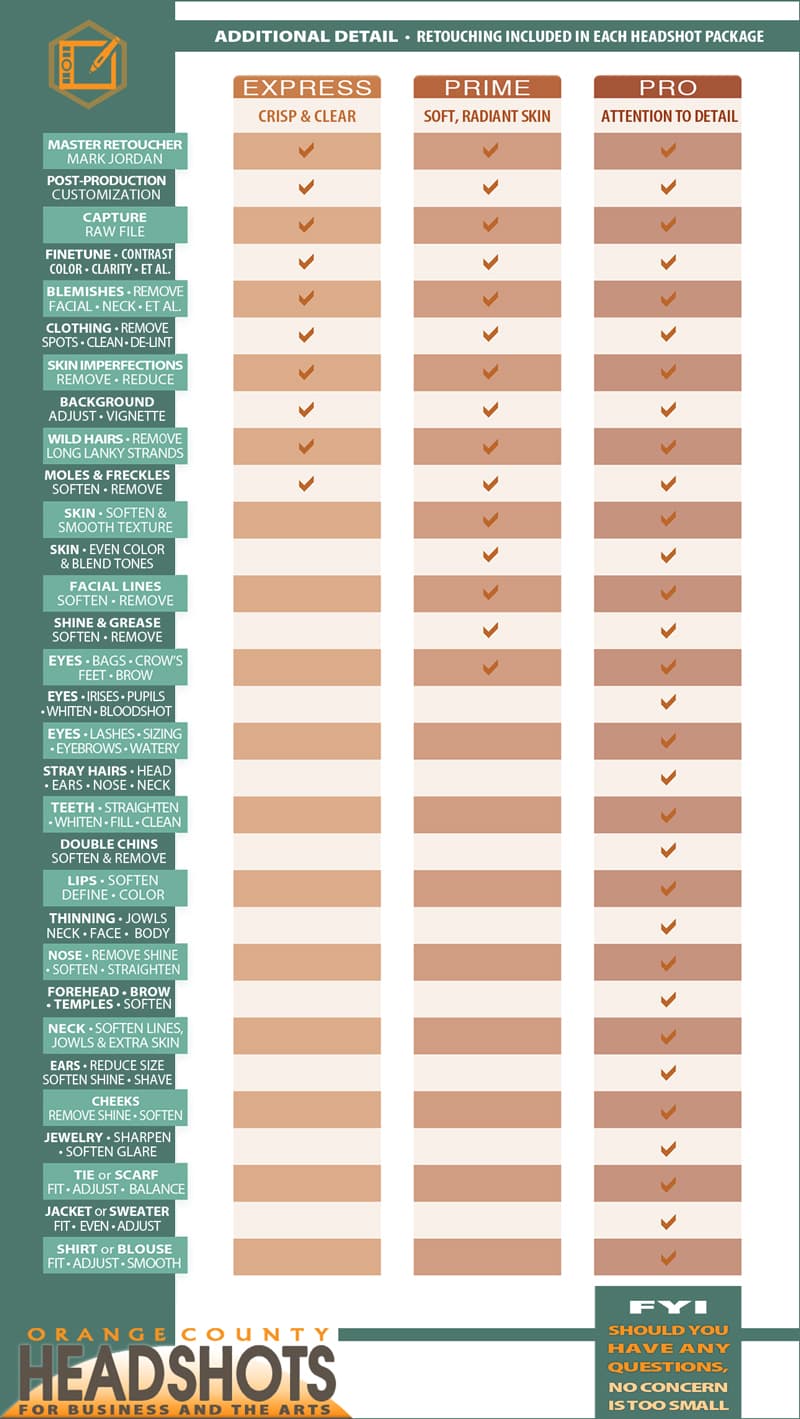 ---
Are You Considering a LOCATION for Your Headshot?
If you're contemplating a headshot on-site somewhere, odds are we offer the location you need.
Please click the link to discover more about our HEADSHOT LOCATIONS.
---
Do You Need a PERSONALIZED Headshot Package?
While our Headshot Package Pricing above is for a simple, SINGLE LOOK session, we also offer a personalized approach that allows you to ADD looks, people, exposures, & retouching.
Personalizing your headshot is accomplished with our À La Carte Headshot Packages. À La Carte is typically requested when a client has unique headshot needs or they desire to bring along their associates for their headshots session. Should your headshot needs require a Personalized Package, simply let us know and we'll design one just for you.
Please feel free to visit our À La Carte Headshot Packages page or simply connect with us and we'll guide you every step of the way: CONTACT MARK JORDAN
---
SERVICES We Are Delighted to Provide for You
Studio or Location Portrait Sessions are ALL performed by Mark Jordan.
Digital File – we offer Web-ready files, High Resolution, Full-Frame and Raw Files.
Retouching Options – 3 unique looks from which to choose to match your particular style.
Background Selection – we offer a wide variety of Studio Backgrounds (colors & patterns), as well as digitally crafted replacement backgrounds.
Custom Sizing Formats – we prepare for your digital file for any website or size requirement.
Lifetime Guarantee – the quality and refinements are guaranteed for the life of your image.
1 – 2 Day Turnaround – depending on the number of images and degree of retouching.
Free Web Posting – complimentary posting your image in up to 5 websites.
Online Previewing – select your favorite expression in the comfort of your home or office.
Raw File Digital Capture – we use the highest quality possible for unlimited customization.
Preview Ready in 24 Hours – this makes it quicker to have your finished headshot
Headshots On Location – we offer city, beach, office, park and specialty locations.
Reproduction Rights – unrestricted professional use of internet posting.
Expression Review – Mark & Kari will personally help you with making the best choice.
Headshot Planning – Mark & Kari help you every step of the way in preparing for your headshot.
Headshot Coaching – Mark gives invaluable "posing" tips before each headshot session.
---
The COMPLETE PICTURE To Headshot Pricing
The majority of our headshot clients prefer the bottom-line – they have little interest in exploring detailed information. However, hundreds of clients feel otherwise. Each year they tell us how much they appreciate the time and effort that has gone into preparing our comprehensive pricing information.
If you'd like to learn more, simply click the link to the Complete Picture to Headshot Pricing.
---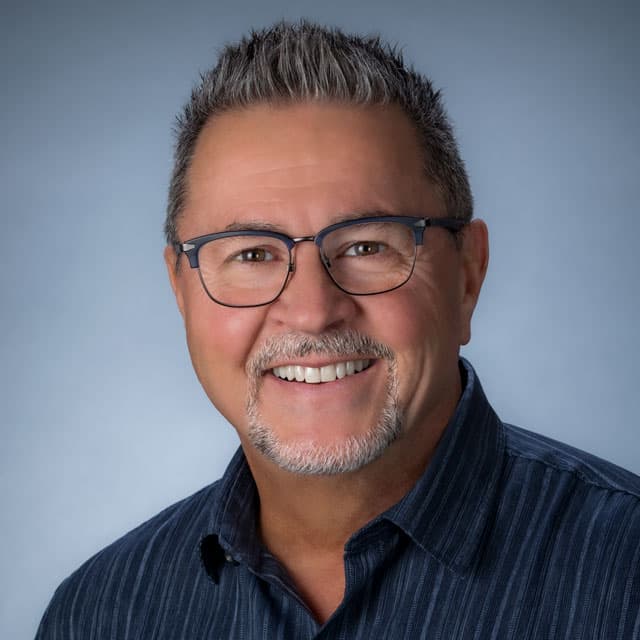 As always, should you have questions regarding any aspect of Headshot Package Pricing, no concern is too small.
Mark Jordan
Master Craftsman Photographer
American Society of Photographers
International Photography Hall of Fame & Museum
Orange County Photographer of the Year
3-Time Honoree -EPCOT'S World's Greatest Photographers Exhibit
---
Headshot Package Pricing
Contact Us Today
When looking for a professional Orange County Headshots Photographer please call 949-713-4050 or complete our online request form.