Family Portrait Tips For Orange County
FAMILY PORTRAIT TIPS BY ORANGE COUNTY HEADSHOTS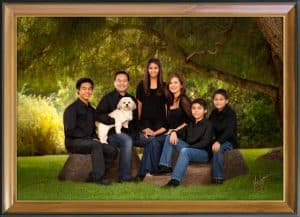 When is the last time you had a family portrait taken? Are you and your children missing out on creating memories you'll cherish for a lifetime? We offer Our Family Portrait Tips page to help your plan your next famly portrait.
We all know that family portraits capture special moments of children's lives – times that you want to vividly remember, forever. However, did you know that there is nothing like a professional family portrait create at different stages of everyone's lives to remember these special times?
Kids grow fast – faster than you might imagine. In fact, we are frequently told by our clients that were it not for the family portraits we created, they would have never appreciated the subtle differences in the child's life.
Having an excellent family portrait created isn't always easy. It could be, but it isn't. The term 'family,' of course, means that there are people involved in corralling together. The more people included in a family portrait session, the greater the possibility for things to go sideways. Following are a few not so ordinary tips to help you take home a family portrait that you'll cherish for years to come.
Hire An On-Location Photographer
There is something wonderful about a family portrait which is taken in a natural setting, instead of a studio. Having everyone posing in front of a fake background while sitting on stools with fake grass under their feet is okay, but an on-location photographer will be able to produce results that you and your friends will love. Wouldn't you rather have a family portrait taken with Wilderness Glen or Laguna Beach as the backdrop instead of some mural photograph?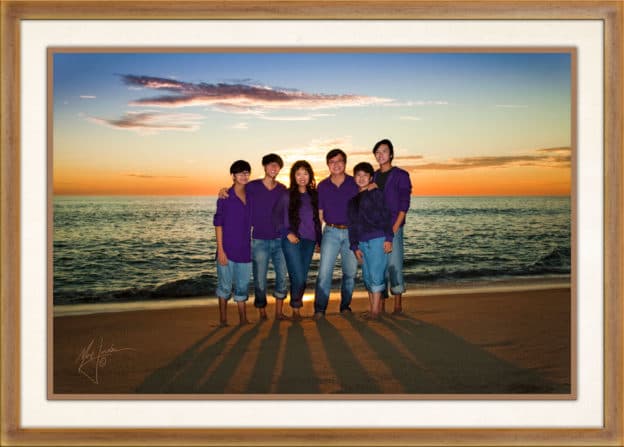 An on-location photographer in Orange County will need to know all about lighting and how it plays within the environment. There are shadows and light directions that have to be managed to ensure your family is lit properly and to bring out your best. Though it seems anyone with a camera these days boasts they are a portrait photographer, but there to understand the multifaceted nature of light, it requires an experienced professional – a professional photographer like Mark Jordan.
Not only has Mark Jordan been creating remarkable family portraits for nearly four decades, he's a Master Craftsman Photographer and an invited member of the International Photography Hall of Fame and Museum. Mark prefers outdoor family portraits, but not because outdoor lighting is "easier," but rather because it's actually more challenging (when it's executed properly) and the results are all the more extraordinary.
A studio only photographer only has to be sure that the same studio lighting settings are right for the family portraits that they've taken over and over again, year after year. Their camera is practically glued to the same spot and everything is pre-arranged, creating the same cookie-cutter portrait.
Needless to say, though studio lighting knowledge and artistic talent is essential in creating a studio portrait of your family, more often than not, studio portraits are stale, lacking life, dimensionality, and spontaneity. If the photographer won't come out to your beautiful home or favorite location to create your family portrait, it's likely that either the passion or skill is not present to do so.
Get The Family Ready For A Family Portrait
Let's be honest, getting everyone ready for a family portrait can be a challenge. With some families, it's nearly impossible to get everyone together at the same time at the same location. If you plan ahead and consider some tips from our Orange County photographers (the proceeding phrase is to satisfy "search engines" where Mark Jordan Photography is what we want to say but it does not earn any search engine juice…), the portrait session will go more smoothly and the results will be all that much better.
Please feel free to contact us and we'll be delighted to meet with you discuss every aspect of preparing and corralling your family together.
A Few, Not So Ordinary, Portrait Tips for Families with Fidgety Kids
When you have kids, you know that there's no way to interrupt certain bodily functions. And fidgeting is a normal, natural thing that is difficult to control for long. Before it's time to get everyone ready to take a family portrait, you'll want to make sure to keep these tips in mind so the big day goes well.
Feed the kids so they aren't hungry but don't feed them too close to the appointment time. Give them time to process the meal so you're sure there's no tummy ache going on.
Refrain from giving them too much to drink within an hour of the appointment time. Plan to let them get their fill of beverages so they have time to use the restroom all they want.
Hold off on the sugar and caffeine (i.e. chocolate) within two to three hours of arriving for the family portrait. Sugar and caffeine will only make them fidget more.
Bring a quiet activity for them to do for possible times of waiting. It can be really boring to just sit around waiting for something to happen. That's when the fidgeting usually starts!
And finally…blow your child's nose just before the portrait is taken (if necessary)! Boogers are a real bother for kids. You would be amazed at how many kids we've captured over the years in the act of removing them!
Mark Jordan
Master Craftsman Photographer
American Society of Photographers
International Photography Hall of Fame & Museum
Orange County Photographer of the Year
3-Time Honoree -EPCOT'S World's Greatest Photographers Exhibit
---
Family Portrait Tips by Orange County Headshots
Contact Us Today
When looking for a professional County Headshots Photographer please call 949-713-4050 or complete our online request form.