It Was Easier to Wear Many Hats Than Grow More Heads
THE CHALLENGE
My close bud, Steve, is forever dumbfounded by the ambitious number of various jobs I once performed in my youth. Over the years, we're not long into a conversation when some aspect of the topic relates to one or more of the many hats I once wore.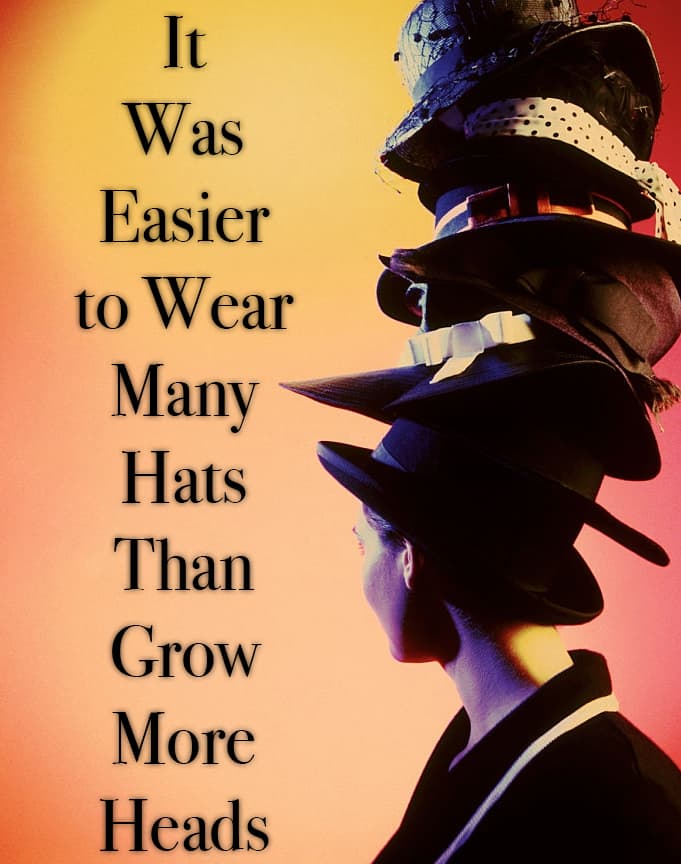 Just last week Steve and I were talking about defunct department stores when it occurred to me that I had been employed by several of them. And once again, Steve was astonished.
On this occasion, though, rather than simply expressing his amazement over yet another litany of work citations, our talk gave Steve an idea. Well, it wasn't truly a fresh thought, as he'd previously asked me if I had ever thought to itemize my past positions.
This time was different, however, in that Steve challenged me to actually consider making a comprehensive inventory of every one of my jobs.
Nonetheless, I merely laughed and said I would have to put it on my to-do list, someday…
PANDEMIC
Shortly after our last chat, an insidious affliction gripped the world – a pandemic: COVID-19.
It wasn't long before Coronavirus swept the land, shattering lives throughout the world. In its wake, it also closed business doors, including my own, Orange County Headshots.
Suffice it to say, with the sudden surplus of free time thrust upon me, I found myself looking for activities to keep me busy. After completing one long-overdue project after another, and seeing that the depletion of my Netflix queue was swiftly approaching, I began to feel desperate.
Then it hit me – what about Steve's charge to enumerate the many hats I wore in my youth? Why not? Not terribly exciting but it was something to occupy my mind.
Seeing I didn't have much else on my plate, I then set about to ransack the recesses of my memories.
It was more challenging than I anticipated.
No sooner had I racked my brain, squeezing what I thought was the last of the many hats on my list when yet another nine-to-fiver would come bubbling up. In fact, this percolation keeps occurring each and every time I proofread this post.
25 hats turned into 50, then 75, which eventually inclined to over 100 hats. I was stunned.
For the first time, I think I better understand Steve's preoccupation with my many hats. It was mind-boggling to even me! Yes, of course, I had some idea of my background but I had long forgotten the expanse of my work experiences.
Along the way, I also recalled a song I once wrote in my early teens, Occupations. Do not fear, I'll spare you the melody and full lyrics. I'll only mention that the one repetitive line, which is revelatory of my awestruck heart: Occupations, I want to try them all.
DAYS OF OLD YOUTH
"Youth ends when egotism does – maturity begins when one lives for others."
Hermann Hesse
Now then, before I deliver my job-list, I think it's relevant to keep a few factors in mind.
FIRSTLY – the vast majority of my jobs were performed between the ages of 10 – 24. It was after this period when I launched my career as an elementary school teacher (2nd Grade). Subsequent to teaching, my primary "work" has been as a photographer.
SECONDLY – not every new job entailed a new hire. Several of the companies for which I worked moved me around within the company – considerably!
THIRDLY – my budding "aptitude," it appeared, was building upon established foundations. I had a talent for improving systems. Whether the department to which I arrived was in shambles or in blue-chip shape, within short order I'd have it operating at a greater level of productivity and efficiency.
This knack for improving my surroundings not only came naturally – I loved it.
FOURTHLY – on top of this flair, my parents raised me with a strong work ethic. This is an understated way of saying that I was assiduously conscientious – like a ball of fire.
There wasn't a department I took-over where I didn't dedicate myself to turning its head. And while this attitude was embraced by my superiors, it wasn't unusual for my arrival to be not so enthusiastically welcomed by my fellow laborers.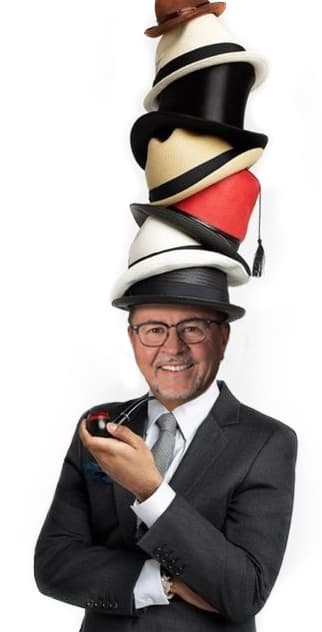 FIFTHLY – fortunately for all concerned, monotony set in quickly. For my bosses, this meant blithely relocating me to a new battlefront. And for the worker-bees, seeing the departing backside of their taskmaster was not too soon.
So, why the all, all-too sudden boredom? Once my work was done, I simply lost interest – I had to move on. Youth! Right?
This, in turn, led me down the interview road – ordinarily, soon after taking on a new position.
Looking back, it's uncomfortable to admit that more than one job lasted all of a week. Some, a single day. Typically, I wore the bulk of my many hats one to three months.
At the time, I believed the reasons for my active "retiring" were rational. Sometimes, feeling that I had "mastered" the job and it had nothing more to offer, tedium set in, overnight.
On other occasions, a promising offer "magically" presented itself. Rarely, I hated the work.
Most of the time, however, the allure of a new challenge beckoned me away.
LASTLY – right about now you're probably asking yourself, "Why would employers risk hiring someone with such a consistently abbreviated job history?" Maybe not in those exact words, but I've got to think the question has got to have occurred to you.
The answer is twofold. It lies in a combination of interviewing well and receiving stellar references.
Genuine enthusiasm for the task at hand is always appealing. Hiring managers are naturally inclined to trust people they like, are convinced they can trust, and whose preceding supervisors rewarded them with energetic reviews.
In other words, even though I typically was not long for any one job, the quality of the work I performed and the influence I left behind, seemed to outweigh the brevity of my tenure.
AND FINALLY – with all this thrilling information behind us, we are now ready for THE list.
However, first a short word of caution.
In case a sensation of nausea or eye-rolling overcomes you (exasperation? disbelief?), simply walk away.
I won't know and won't be offended in the least. My only request is that you might consider that for me, it was easier to wear many hats than grow more heads.
---
In Alphabetical Order
FOOD & BEVERAGE
Barboy
Bartender
Busboy
Cook – Fast Food
Cook – Fine Dining
Cook – Short-Order
Counter / Cashier (e.g. Toco Bell, Pioneer Chicken, etc.)
Manager – Fastfood
Trainer – Busboy/Waiter
Waiter – Family Dining
Waiter – Carte Service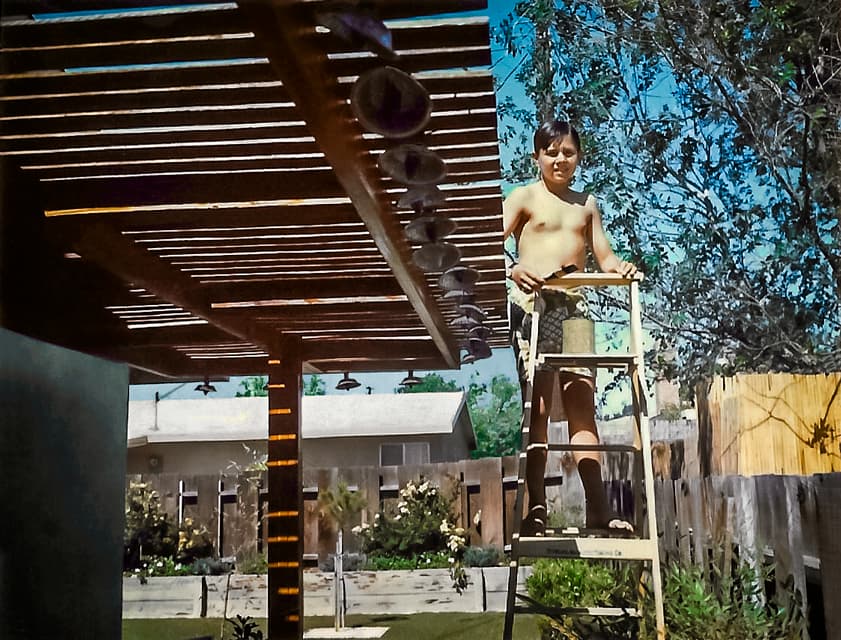 CONSTRUCTION
Furniture Assembler – Sofas/Love Seats/Chairs
Painter Homes – Interior / Exterior
Plasterboard Wall Installer – New Homes
Wall / Ceiling Insulation Installer
MUSIC / MUSICIAN
Guitar / Bass Church Services
Guitar / Bass Coverband – Neighbor Gigs
Guitar / Bass Nightclub Gigs
Guitar Studio Musician/Recording
Guitar Teacher
Songwriter (without pay…)
PHOTOGRAPHER
Board of Directors (V.P., Secretary, Hospitality, Membership)
Boudoir
Children
Commercial
Headshots (my favorite genre!)
Family
Pets
Product
Theater Production
Weddings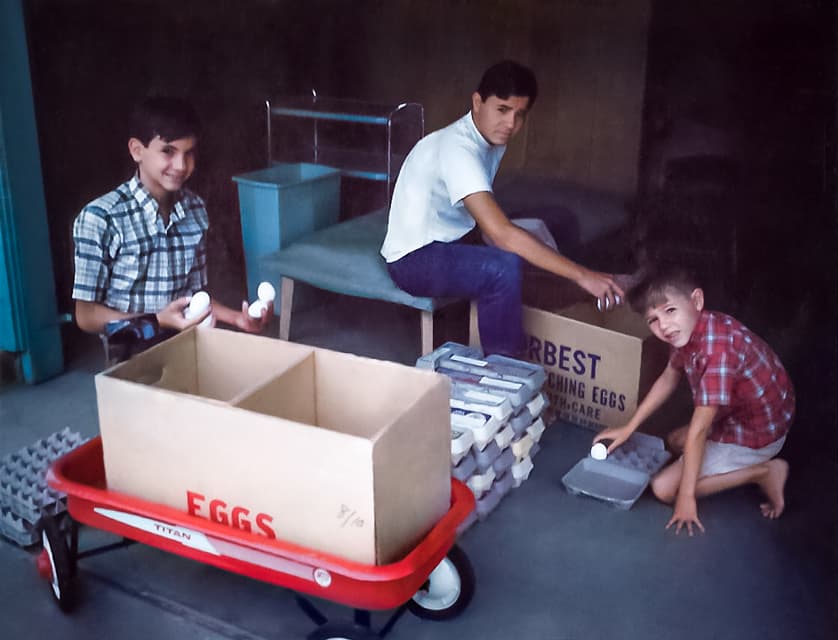 SALES
Air Conditioners
Auto Audio Systems
Automotive Parts
Backpacking Gear/Tents/Bags/Packs
Bathroom Appliances
Bedding/Sheets/Towels
Bicycles
Books (thought it would be fun to work in a bookstore – wrong!)
Building Materials
Camping Gear/Tents/Coolers/Cots/Cookware
Carpets & Rugs
Christmas Trees & Decorations
Clothing – Men's
Cookware (Pots & Pans)
Cutlery
Dinnerware/China
Doors – Home Interior
Draperies & Curtains
Eggs – Door-to-door Egg Route
Electrical Supplies
Exercise Equipment
Fireplace Mantels, Screens & Tools
Fishing Gear/Licenses/Worms
Flatware
Flooring – Wood/Linoleum/Tile/Stone
Furnaces
Gardening Supplies
Gifts
Guns/Ammunition (ask me about the one-way mirror)
Hardware
Home Furniture/Furnishings
Housewares
Hunting Gear/Clothing
Indoor Plants / Planters
Kitchen Appliances
Landscaping Materials/Plants
Lawn Mowers (read the directions before assembling!)
Lemonade (Stand)
Liquor/Cigarettes/Chewing Tobacco
Luggage (not be confused with baggage)
Musical Instruments & Gear
New Homes (to supplement my teaching salary)
Paint, Interior & Exterior
Patio Furniture
Picture Frames/Folios/Easels/Albums
Playground Equipment (Swings/Slides)
Plumbing Supplies
Pumpkins
Roofing Materials & Supplies
Screen Doors
Shoes & Boots
Sound Systems – Turntables/Amplifiers/Speakers
Sports Equipment
Stationary (where I met the Prince of Ghana)
Televisions
Tires – Autos, Bikes, Wagons, Carts
Tools – Garage
Toys
Unfinished Furniture
Used Cars
Vacuum Cleaners
Video Games (1st home video game, Pong, by Atari)
Wallpaper & Supplies
Watches
Water Heaters
Window Shades (loved cutting shades to exact size)
Wood & Woodworking Supplies/Tools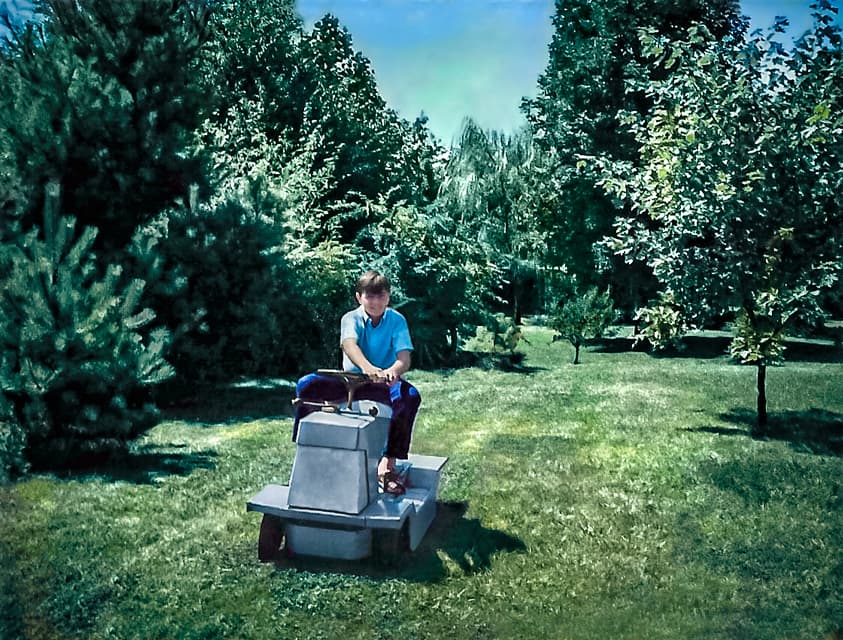 SERVICES
Auto Detailer/Washer
Babysitter
Bagboy – Grocery Stores
Butcher (too many close-calls in losing fingers)
Carpet Layer (another 1-day job – too hard on the knees.)
Cashier (when counting change was a thing)
Counselor (Men & Couples) Pro Bono
Customer Service Representative (stories galore!)
Delivery / Driver (enjoyed the independence)
Docent
Florist (2-years of fun in design & fragrance)
Gardner
Grocery Store Stockboy
Liquor Store Stockboy
Mowing Lawns – Push
Model – Ramp Walk (too self-conscious to be good)
Newspaper Delivery (thank you, mom, for all your help!)
Picture Framer
Pool Cleaning (1-Day of pure boredom)
Produce / Manager (never got used to frozen fingers)
Recycler
Screen Door Repair (it's all in having the right tools)
Security Guard – New Homes (late-night patrol was unnerving)
Security Guard – Art Shows (summer job at Festival of the Arts)
Sheep Shearer (One Very Long Day)
Weed Puller – Neighborhood (today, I pull weeds for free…)
Window Glass Cutter (today, I design stained-glass window as a hobby)
Widow Screen Repair
Window Washer (one of the least enjoyable of all work)
TEACHER
1st Grade Public Schools
2nd Grade Public Schools
3rd-4th Grade Combo Public Schools
4th Grade Public Schools
Master Teacher (where I met my wife, my student teacher…)
School Board
Student Instructor
Tutor – Multiple Subjects
---
In the meantime, and as always, should you have questions regarding any aspect of professional headshots or our It Was Easier to Wear Many Hats Than Grow More Heads, no concern is too small.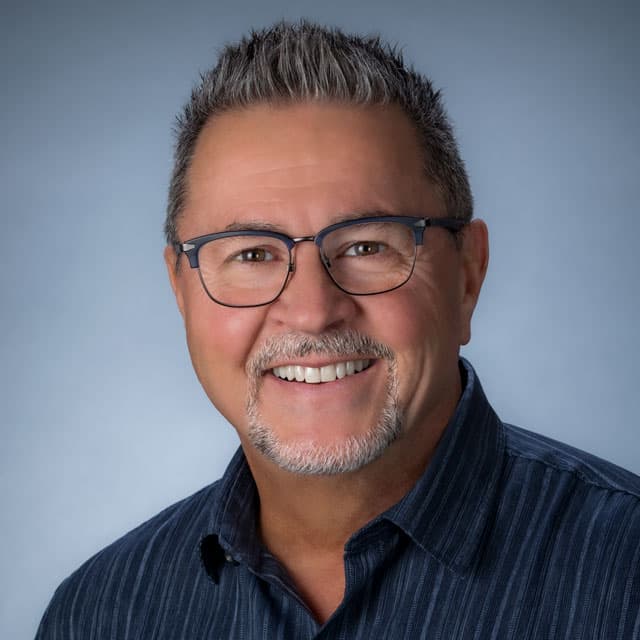 ---
It Was Easier to Wear Many Hats Than Grow More Heads
---
CONTACT US TODAY
When looking for an Orange County Headshots Photographer please call 949-713-4050 or complete our online request form.
---
PRIMARY AREAS SERVED
Orange County Headshots Photographer, Mark Jordan, is internationally recognized and serves all of Southern California, including San Diego County, Los Angeles, and the Inland Empire.
For four decades Orange County Headshots has served and created professional headshots in the cities of Aliso Viejo, CA | Anaheim, CA | Brea, CA | Buena Park, CA | Corona del Mar, CA | Costa Mesa, CA | Coto de Caza, CA | Cypress, CA | Dana Point, CA | Dove Canyon, CA | Fountain Valley, CA | Fullerton, CA | Garden Grove, CA | Foothill Ranch, CA | Huntington Beach, CA | Irvine, CA | Ladera Ranch, CA | Laguna Beach, CA | Laguna Hills, CA | Laguna Niguel, CA | Laguna Woods, CA | Lake Forest, CA | Los Alamitos, CA | Mission Viejo, CA | Newport Beach, CA | Orange, CA | Placentia, CA | Rancho Mission Viejo, CA | Rancho Santa Margarita, CA | Robinson Ranch, CA | San Clemente, CA | San Juan Capistrano, CA | Santa Ana, CA | Seal Beach, CA | Shady Canyon, CA | Trabuco Canyon, CA | Turtle Rock, CA | Tustin, CA | Tustin Ranch, CA | Villa Park, CA | Westminster, CA | Rancho Mission Viejo, CA | Yorba Linda, CA | Las Flores, CA | Modjeska Canyon, CA | Santiago Canyon, CA | Silverado, CA | Emerald Bay, CA |