Headshot Portfolio | Micky Arison | Orange-County-Headshots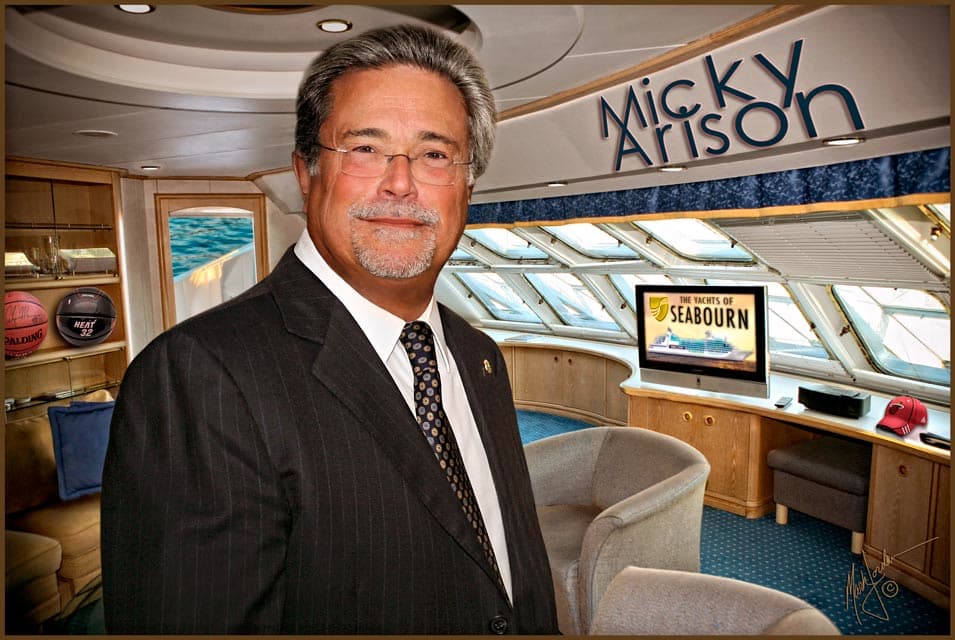 Micky Arison (of Miami Heat fame and Seabourn Cruises) at sea aboard one of his yachts.
Micky Arison is one the kindest and more relaxed billionaires I've met and had the opportunity to photograph. The image above captures Micky in the most forward, luxury stateroom of one of his Seabourn yachts. While we were in particular hurry, our session time was about all of five minutes. Then off to dinner.
The primary reason for me being on board was to photograph Mickey with my close friend, Steve Shulem. Steve and I were the personal guests of Mr. Arison, along with a dozen other top travel agents throughout the globe. Each one of them had a consistent track record of representing Micky's cruise line, Seabourn, with millions of dollars in sales. Our first-class flight and cruise were compliments of Mr. Arison.
I was invited to tag along (all expenses paid) to capture the special event as well as to ensure Steve was fully covered in all the activities and especially those that entailed Mr. Arison.
While I chose to post a photo of Mr. Arison standing by himself, this is the only image like it. The entire week was replete with Micky and either a VIP agent or a group of some sort.
Unfortunately, as is the case with the vast majority of the time I'm photographing the rich and famous, I ALWAYS forget to do a quick stand-in to show that I was actually there.
While forgetting to get a quick snap of me and Micky was frustrating, I do have three regrets that top them all.
One was my night spent with John Wayne. Not a single image.
The night Keven Costner dropped by our table in Santa Barbara to chat with Kari and me. Wasn't thinking "photo."
And probably the one that hurt the most was the day I spent with Barbara Eden, of I Dream of Jeannie fame. Barbara had donated her jeannie bottle to a charity fundraiser and I was hired to capture the event.
Well, I did ask the hulk, Lou Ferrigno, to capture Barbara and I at the afterparty, but when I got home and developed my film, I discovered that nine of the ten images where out of focus and the one image that was tack sharp, had our heads cut off! Oh well.
---
In the meantime, should you have questions regarding any aspect of Headshot Portfolio Micky-Arison Orange County Headshots, no concern is too small.
Mark Jordan
Master Craftsman Photographer
American Society of Photographers
International Photography Hall of Fame & Museum
Orange County Photographer of the Year
3-Time Honoree -EPCOT'S World's Greatest Photographers Exhibit
---
---
HEADSHOT-PORTFOLIO-MICKY-ARISON-ORANGE-COUNTY-HEADSHOTS
Contact Us Today
When looking for a professional Orange County Headshots Photographer please call 949-713-4050 or complete our online request form.