The Art of Retouching Headshots Part Four
Conversational Retouching
---
Last in our Four Part series on professional retouching is The Art of Retouching Headshots Part Four.Our post would not complete unless we discuss the reason or intended purpose of the headshot.
To identify the reason or purpose of a headshot we must first ask whether the headshot style is either Commercial or Theatrical. Rather than rehashing the distinctions between the two here, I invite you to read my blog post, The Perfect Professional Headshot. In short, both Commercial or Theatrical headshot are selling something – you!
Commercial Headshots: generally represent the face of business.
Theatrical Headshots: are personality focused, i.e. actors, models, authors, etc.
Briefly, Commercial-business headshots typically benefit from applying a greater degree of retouching, creating a more acceptable persona with finely tuned facial features. For instance, though a client's teeth may actually be yellow, eyes sizes are mismatched, and skin is rough and ruddy, it's advisable to mitigate these distractions, which could prove to be potential barriers with potential clients. To look more natural, these unflattering features require retouching.
Theatrical-artist headshots, on the other hand, intended for agencies, tend to require a more accurate or utilitarian representation of their facial features. Nothing is more aggravating to a prospective agent than sitting in his office with a model's headshot in hand and unable to reconcile the headshot with the person standing four feet in front of them. That is until they amount to something, upon which I am then asked to make them appear radically younger than they are in reality…funny thing about Theatricals.
---
The Art of Retouching Headshots Part Four: "Conversational Retouching"
The Art of Retouching Headshots | Part One – PREVAILING PERSPECTIVE
The Art of Retouching Headshots | Part Two – THE ELEPHANT IN THE ROOM
The Art of Retouching Headshots | Part Three – IT'S ONLY NATURAL
---
Imagine you are talking with the lady in the image below. Which image, left or right, do you think best represents how you would be seeing her and experiencing her while in a conversation? The LEFT image represents a Critical observation, which depicts every detail. The RIGHT image has been retouched, Naturally, with our Pro Retouching. Pro retouching is designed to replicate how we actually recall, recognize and converse with people, CONVERSATIONALLY.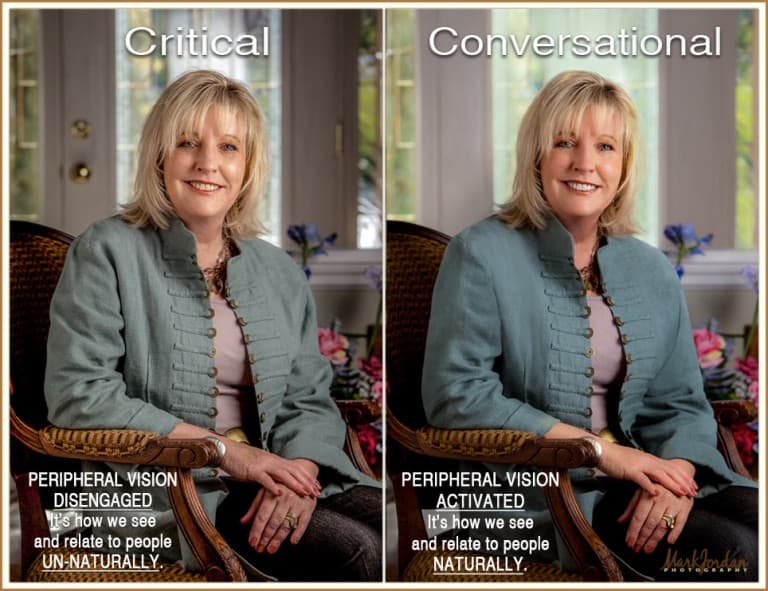 In other words, The Art of Retouching Headshots Part Four is about appropriately applied retouching. It is not intended to alter one's character, but to render the face conversationally. That is, natural headshot portrayals are best accomplished when the retouching is applied as if sitting across them in a friendly conversation. Your peripheral vision fully absorbed, while the vanity mirror examination is disengaged.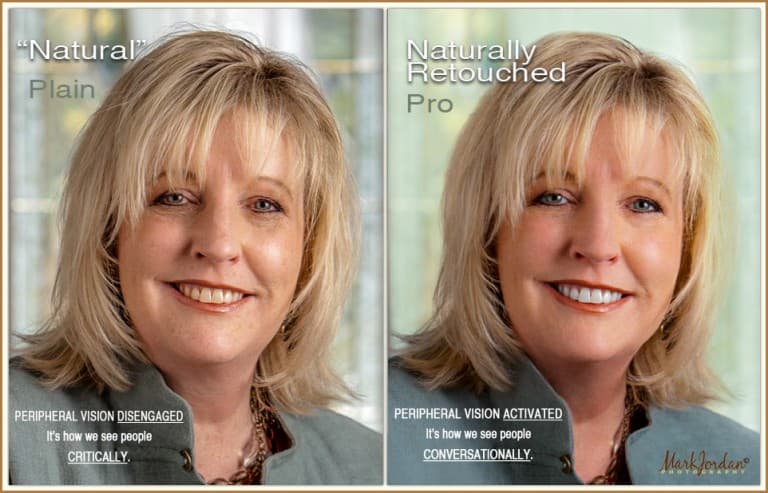 As you can readily see, a NATURAL headshot (i.e. plain – unretouched) actually yields a most UN-Natural depiction of a face. That is, when we talk with people we don't naturally see such exacting detail in their faces. Our most extensive level of retouching, PRO, renders the face CONVERSATIONALLY. Naturally (Headshots Part Four)
In short, expertly applied retouching is accomplished by judicious application of both Additive and Subtractive retouching. We subtract, soften/remove those elements people do not normally notice when engaged in a conversation, while adding, bringing out, and lightly enhancing those attractive and striking features they generally do recognize.
Probably the most important takeaway from The Art of Retouching Headshots Part Fouris that extensive retouching (i.e. our's is the Pro-The Works level) is designed NOT to alter one's "natural" character, but to render the face more conversationally.
Naturally.
It's all about the Art of Retouching.
Should you have ANY questions regarding any aspect of The Art of Retouching Headshots Part Four, please know that no concern is too small.
---
Mark Jordan
Master of Photography
Photographic Craftsman
International Photography Hall of Fame & Museum
EPCOT Center World's Greatest Photography Award
Family Portrait of Excellence & Dedication Award
International Loan Collection Award – 11 Time Recipient
Portrait Photographer of Excellence Award – America, Norway & Germany
Orange County Photographer of the Year
American Society of Photographers
---
THE ART OF RETOUCHING HEADSHOTS PART FOUR
---
PRIMARY AREAS SERVED FOR BUSINESS PORTRAITS HEADSHOTS
Orange County Headshots Photographer, Mark Jordan Photography is internationally recognized,
and serves all of Southern California, including San Diego County, Los Angeles, and the Inland Empire.
For over three decades, Mark Jordan Photography (Orange County Family Portraits and Orange County Headshots) has served and created family portraits and headshots for the cities of Aliso Viejo, CA | Anaheim, CA | Brea, CA | Buena Park, CA | Corona del Mar, CA | Costa Mesa, CA | Coto de Caza, CA | Cypress, CA | Dana Point, CA | Dove Canyon, CA | Fountain Valley, CA | Fullerton, CA | Garden Grove, CA | Foothill Ranch, CA | Huntington Beach, CA | Irvine, Ladera Ranch, CA | Laguna Beach, CA | Laguna Hills, CA | Laguna Niguel, CA | Laguna Woods, CA | Lake Forest, CA | Los Alamitos, CA | Mission Viejo, CA | Newport Beach, CA | Orange, Placentia, CA | Rancho Mission Viejo, CA | Rancho Santa Margarita, CA | Robinson Ranch, CA | San Clemente, CA | San Juan Capistrano, CA | Santa Ana, CA | Seal Beach, CA | Shady Canyon, CA | Trabuco Canyon, CA | Turtle Rock, CA | Tustin, CA | Tustin Ranch, CA | Villa Park, CA | Westminster, CA | Rancho Mission Viejo, CA | Yorba Linda, CA
---
Contact Us Today
When looking for an Orange County Headshots Photographer, please call 949-713-4050 or complete our online request form.