Digital Files
Digital Files are INCLUDED with all our All-In-One Packages. However, you can also order digital files separately, À La Carte. Regardless of how you choose to purchase your digital files, our easy to read Digital Files InfoGraphic provides detailed information for our FOUR different digital file formats. Each digital file is defined in greater specificity following the InfoGraphic.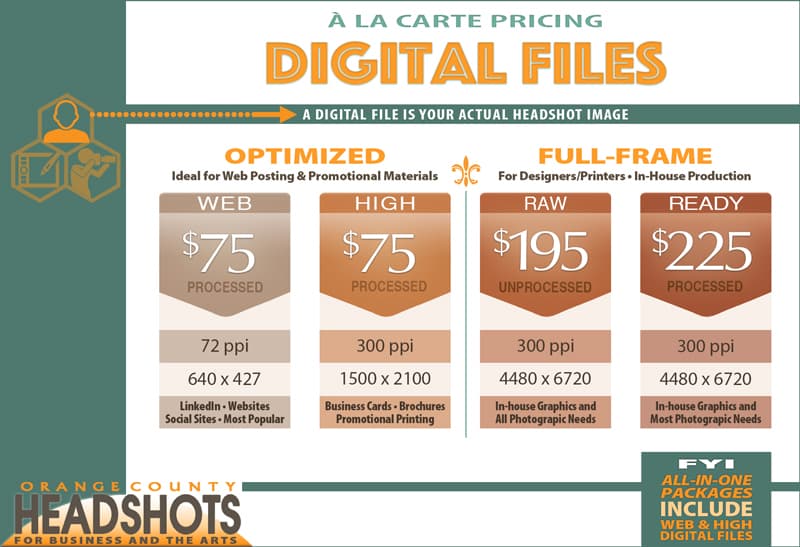 ---
PERSONALIZING Your Headshot Package • À La Carte
There are 3 essential components to any headshot: Session, Digital File, and Retouching.
Personalizing your headshot package is simply a way for you to create your own package by being able to purchase any of the 3 essential components as you see fit, À La Carte.
This page is dedicated to the single headshot component, Digital Files.
Following are links to the other two À La Carte components: Session • Retouching
Each PACKAGE includes ALL 3 Essential Components to any Headshot: Session, Digital File, and Retouching.
ALL-IN-ONE convenient price.
Best Option for the vast majority of our clients. By far, our most popular approach.
---
DIGITAL FILES
Four Digital File Formats

A. OPTIMIZED
1. WEB – $75
Web Resolution Digital File (WRDF) 72 ppi
Optimized for posting on the internet, which meets the needs of 99.99% of our clients.
Ideal for all web-posting needs – by far our most popular.
Rights for unlimited posting on websites and social media.
2. HIGH – $75
High-Resolution Digital File (HRDF) 300 ppi – 3-9 MB)
Ideal for business cards, brochures, book covers, etc.
Also available at NO CHARGE with a WEB file purchase.
We will email your HRDF directly to your printer/graphic designer at your request.
B. FULL-FRAME

3. RAW – $195
Unprocessed, Full-Frame digital file, straight out of our camera (4480×6720).
Also knowns as a RAW File, or the photographers "Digital Negative."
Offered for design professionals who require complete in-house production.
4. READY – $225
Processed, Full-Frame digital file, color corrected, and prepared for publication (4480×6720).
Not only is the Max-File a ready to use, High-Resolution file, it includes the Maximum area of the captured image.
Ideal for design professionals who desire a processed, full-framed high-res digital to complement their in-house production services.
---
DIGITAL FILES
Contact Us Today
When looking for a professional Orange County Headshot photographer, please call 949-713-4050 or complete our online request form.