Digital Retouching
Digital Retouching is INCLUDED with all our All-In-One Packages. However, you can also order digital retouching separately, À La Carte. Regardless of how you choose to order retouching, our easy to read Digital Retouching InfoGraphic provides detailed information for our THREE Levels. Each digital retouching level is defined in greater specificity following the InfoGraphic.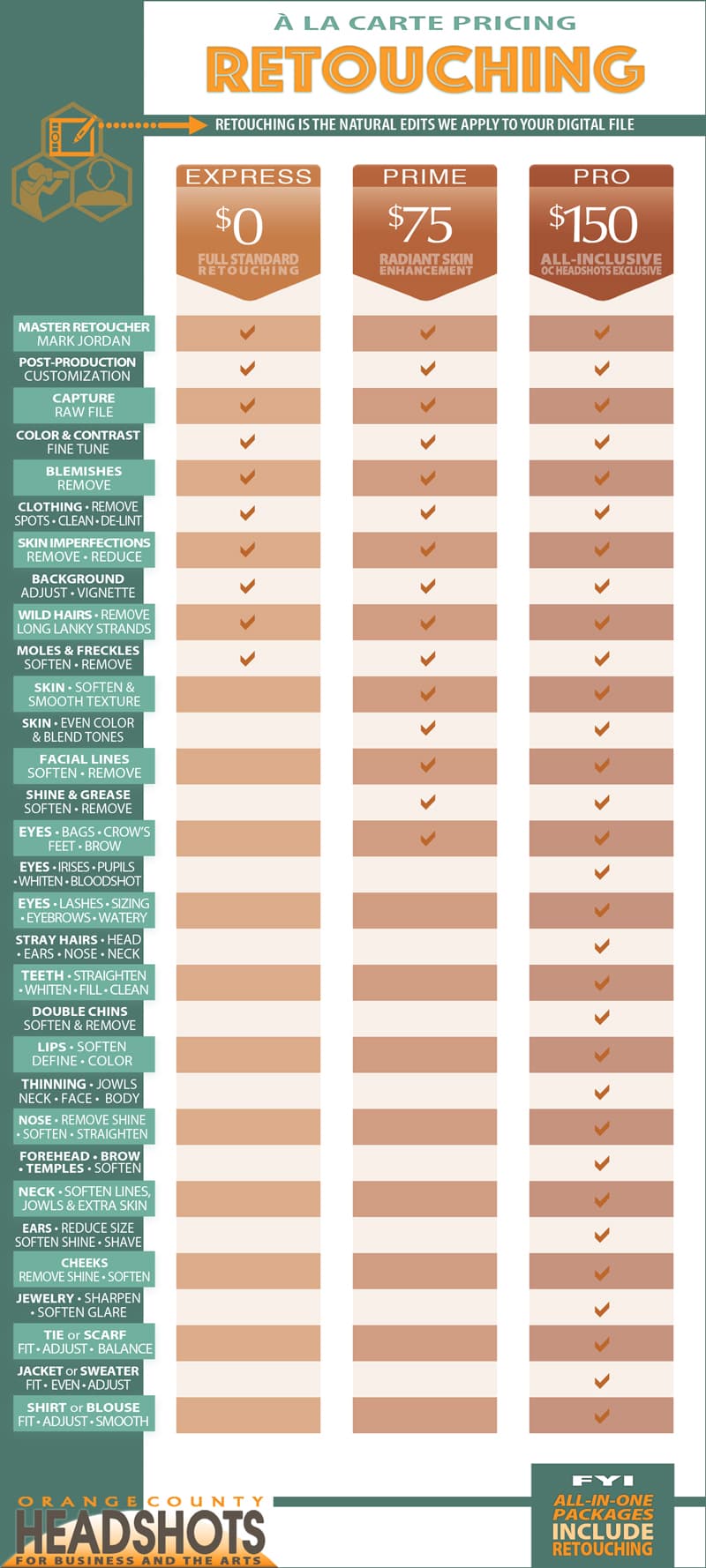 ---
PERSONALIZING Your Headshot Package • À La Carte
There are 3 essential components to any headshot: Session, Digital File, and Retouching.
Personalizing your headshot package is simply a way for you to create your own package by being able to purchase any of the 3 essential components as you see fit, À La Carte.
This page is dedicated to the single headshot component, Digital Files.
Following are links to the other two À La Carte components: Session • Digital Files
Includes the 3 Essential Components to any Headshot: Session, Digital File, and Retouching.
ALL-IN-ONE convenient price.
Best Option for the vast majority of our clients. By far, our most popular approach.
---
OUR RETOUCHING IS CONVERSATIONAL
The goal of expertly applied digital retouching is to render the face conversationally. It is not intended to alter one's actual appearance or character. Conversational Retouching captures YOU how people think or recall your face, not how you actually appear, one on one, in person.
When we talk or relate with people we are too busy being engaged with them to bother examining every detail of their face. We could but we don't. The reason for this is our peripheral vision.
When we converse with people, our peripheral vision is activated. Our eyes dart about, absorbing our environment and attending the various, ongoing distractions surrounding us. Some of us are more easily distracted than others – squirrel!
Regardless of your own degree of distractibility, the point is that you simply do not take note of every facial detail of the person to whom you are talking.
Furthermore, when we reflect upon the faces of our friends and loved ones, our recollection of their facial features are far from exact. We remember the larger, more distinguishing feature such as eye size or shape, hair color, smile and possibly their nose.
In other words, our memories of faces are softer, more diffuse, and forgiving. We don't record a host otherwise readily available distinctions and imperfections. Features such as skin texture and the unevenness of the tones, blemishes, reflectability (shine/grease), spider veins, eye artifacts, ear/nose/chin hair, and all sorts of irregular characteristics simply fail to register. That is, our default operation in recalling faces is one of encapsulation, summarization, and idealization. People look better in our memories than they do in real life.
However, something unexpected happens when we look at photographic images of faces. My guess is that you probably just figured it out. Yes, when we look at photographs of people our peripheral vision is deactivated. It's an eyeopener.
Suddenly, we scrutinize every facial detail. We study their face as we would in a vanity mirror. Eye bags look like canyons, yellow teeth feel dingier and sullied, facial shine looks greasy… You get the picture.
That is, our photographed face, without judicial postproduction editing (i.e., retouching) appears to look much more tired, worn, and aged than it does in our actual interactions with others.
Thus, the reason that appropriately applied retouching is so important to a professional headshot. It revitalizes and restores the features of the face, naturally, conversationally. It's simply not a trivial extra but an absolute necessity.
The conversational face achieved by several methods. We employ both subtractive and additive techniques. That is, while we remove and/or soften those facial features we do not normally notice when conversing with someone, the attractive and striking features we generally do recognize may require slight enhancements.
For us, retouching is both science and art.
For you, retouching is your opportunity to best present yourself as an ambassador to your business and community connections.
Should you like to discover more about Conversational Retouching:
---
3 DISTINCT LEVELS OF DIGITAL RETOUCHING
Keeping with our tradition of personalized service, we offer three distinct levels of Digital Retouching. Should you desire to add "touchups" to your portrait, our three retouching choices are designed to accommodate a wide range of facial demands and the ultimate objectives of your headshot.
Since each expression and exposure is unique, there is no humanly way that the retouching work performed on one image can be copied and then applied to another. Therefore, the cost of retouching is for each expression/exposure you might choose.
Digital Retouching is not a design element that lends itself to a quick summation. We offer this thorough information for those who are interested and enjoy learning. However, for most, this information can be quickly discussed and determined when we meet and/or after seeing your Previews.
So, should the detailed information on retouching be too much to absorb now, please relax and know we'll help you through, every step of the way.
ONE SIZE DOES NOT FIT ALL
Though every face requires some degree of digital retouching, we thought it beneficial to our clients to allow them to decide what level is best for them. Rather than offer a one-size-fits-all approach (as has become the norm these days), we give our clients the option of choosing what degree of Retouching is most relevant to them.
Please note that our three digital retouching levels are not seen as good-better-best, but are rather a genuine approach to accommodate the individual requirements of every face. There is no good-better-best – only options which are offered to meet your specific needs.
Determining the degree of digital retouching best suited for each face is either a function of listening to my client's concerns and attending to their specific requests or simply proceeding according to my aesthetic appraisal. Usually, it's a combination of the two. Regardless, we guarantee our retouching for the life of your image and are happy to tweak your headshot until you are thoroughly delighted.
All levels of retouching begin with our large/soft studio lighting and pre-postproduction refinements necessary to raw file conversion. In addition, we then work directly on the digital file and painstakingly perform the following:
1. Express – $ 0
Standard: the primary focus of Express retouching is rendering a clean, blemish-free face and clothing, as well as fine tuning color, contrast, and clarity.
2. Prime – $ 75
Radiance: includes our Express retouching plus softening of skin/facial lines (forehead, around eyes, neck), evening skin tones, and lessening facial shine, yielding a radiant glow to the face. The radiant feel of the PRIME look also softens eye bags, foreheads lines, and necks lines.
3. Pro – $150
All Inclusive: Pro retouching includes our Prime level plus an emphasis on BOTH the aesthetic quality of your headshot (see details below), and special attention is given to perfecting the color, depth, brilliance, and pop to your headshot. Pro Retouching renders you on your best day!
And just in case the exceptional value is not obvious, for only $75 more than our Prime, Mark offers the PRO to include multiple times the investment in time and creative energy to render a truly remarkable headshot. While it's Mark's way of satisfying his intrinsic desire for impeccable quality, the operative word is not perfection but rather excellence.
PRO RETOUCHING – ATTENTION TO DETAIL
In addition to Prime retouching, every detail in our PRO level is considered and executed personally by Mark Jordan. Special attention is given to:
skin – soften skin texture, even skin tones, perfect skin glow (contrast, shadow, highlights, brilliance), remove blemishes (rosacea, pimples, grease, shine, glare, spider veins, larger pores), soften or remove freckles and moles.
face – where needed thin-out, balance, even and soften contour lines/edges where needed.
eyes – define (irises, whites, eyelashes, eyebrows, catchlights, eyeliner/makeup), soften skin around eyes (eye bags, crows-feet), remove blemishes (redness, veins, bloodshot, water, glare), balance uneven sizes, widen, center gaze, etc.
nose – soften skin, remove blemishes (redness, pores, blood vessels, spider veins), straighten and remove bumps & crooks, reduce glare (grease, shine), mitigate the Retrousse nose, and lighten skin tone.
teeth – whiten (desaturate the yellow), fill (gaps and chips), straighten, align, even rough edges, remove stains, discolorations, spots and glare/saliva.
lips – define, lightly soften, add contrast/depth, define color.
smile – even and balance smile lines, corners, and lips.
ears – focus is on lessening attention to ears, remove distractions (blemishes, glare, grease, shine), slightly darken, may need size reduction and decreasing protrusion.
cheeks – remove blemishes (pimples, grease, shine, glare),
hair – remove wild and stray hair (around head, ears, nose, chin, forehead, neck, shoulders, and clothing), fill in gaps, tweak curls, color where needed, remove unwanted gray and individual stands within the hair, and lighten or darken upon request.
neck/chest – soften skin and lines, removing flab around shirt collar, thinning overall, narrowing or extending width and/or height, evening and darkening skin tone.
chin – soften skin (texture, lines), remove blemishes (rosacea, pimples, grease, shine, glare, spider veins, larger pores), balance color to the face.
jowls – soften skin (texture, lines), remove blemishes (pimples, grease, shine, glare), and remove or thin-out where needed.
hair – highlights, brilliance, sheen, glow; as well as mustache/beard/goatee: shaping, filling, removing strays, coloring.
background – lighten or darken, vignette, tone, contrast, color, blend; replacement possible.
clothing – every detail, fold, lined, wrinkle, shape, curve, texture, color, gig line, and more are considered, analyzed, and adjusted to perfection.

Jacket – contour edges and smoothed, straightened and shaped for a tailor-made look. Shoulders are straightened and cornered properly, as are the lapels, pocket, and torso.
Shirt or Blouse – wrinkles removed, color enhanced, the shape is tailored.
Collar – refined to yield a more svelte neck appearance.
Lapels – brought into a pleasing diagonal alignment to evoke a slender torso and tailor-made jacket.
Tie – made taught, centered, straightened, and shape defined. ,
Miscellaneous – whether it's a hat, belt, scarf, ascot, necklace, earring, bracelet, or watch, Mark painstakingly addresses every concern down to the most minute detail.
---
Should you have ANY questions regarding any aspect of our Digital Retouching, please know that no concern is too small.
---
Digital Retouching
Contact Us Today
When looking for a professional Orange County Headshot photographer, please call 949-713-4050 or complete our online request form.