The Complete Picture to Headshot Photography
Not The Only Way…Just My Way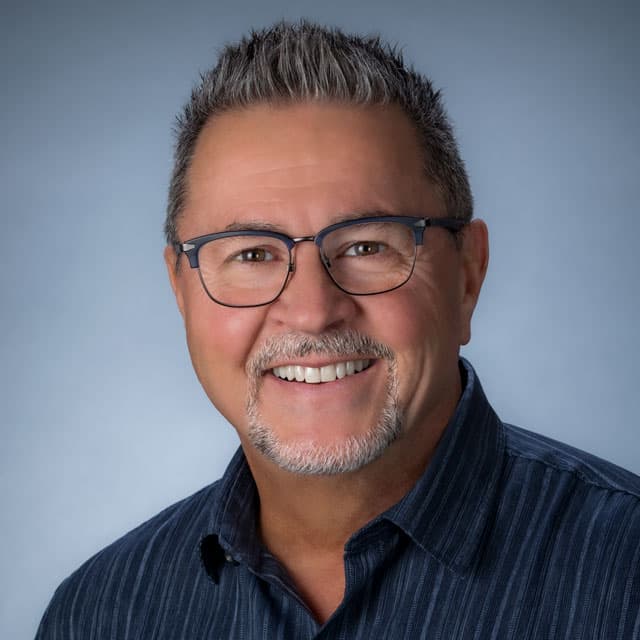 The Complete Picture to Headshot Photography is simply my approach to headshot photography.
My post is a combination of ideology and pragmatic information. I offer it primarily to satisfy the thirst of the "intuitive thinker." Their thirst for information is satiated only by comprehensive material. If you're not the sort who demands painstaking detail, you may consider revisiting this post on a night when you cannot fall asleep.
Now, with that caveat aside, let's us begin.
Quickly, I must mention that you may readily detect that I share the procedures and particulars of my headshot business with no small measure of confidence. I'm passionate about my work and have invested four decades into developing and fine-tuning every aspect of my craft. I feel good about what I do.
However, please do not confuse my enthusiasm and certainty for presumption or pomposity. I neither purpose or suggest in any manner that my approach to the art and science of headshot photography is the definitive, last word. Not by a long shot.
Conversely, the Complete Picture to Headshot Photography is nothing more than my experience. It is a narrative of my mindset and the systems that seemed to work best for my clients and me.
Furthermore, it is relevant to note that in my forty plus years as working photographer I have not once worked for another studio or photographer. I've also not been one to hang with fellow photographers. You might say then, that in regards to my photographic pursuits, I appear to have been a bit of a loner.
However, possibly a more precise picture of my career would portray me principally as a passionate patriarch. I pursued all things family with as much devotion and dedication as one man is capable of mustering.
In other words, there is takeaway from this morsel. And in case it's not conspicuous, my professional practices are a product of idiosyncratic invention. Since I did not have the benefit of watching and playing with others, my methods were devised by personal design. It required ample portions of reflection, deliberation, trial, error, revising and tweaking.
Most importantly, it also meant NEVER allowing the ink to dry. Being satisfied in one thing, but purposefully omitting chisel and stone was key.
In short, The Complete Picture to Headshot Photography is not the only way, just my way…
For instance, regardless of creating tens of thousands of headshots in nearly four decades, I still undertake each session with a fresh approach and passion. My service not only encompasses planning and photographing every headshot session, but it also extends itself to performing every facet of the headshot creation. From the myriad of aesthetic decisions regarding the raw digital files to retouching and final file preparation, I personally attend to every detail. I wouldn't want it any other way.
My portrait sessions are routinely described as "comfortable," "enjoyable" and "painless." I think this may be attributed to that, far from being treated as a nameless face in a portrait mill, my only concern is the person right in front of me – a person deserving my full attention and every ounce of my skill set.
Since the One-Size-Fits-All approach does not work for most people, we have designed our headshot services to meet a wide range of needs and budgets. Price, therefore, is largely a function of matching your headshot needs with our price and design options.
Our only "agenda" is to supply you with what you need (the very finest in headshot photography) while making it quick and cost-effective. Providing options to pick and choose the degree of session coverage, image file size and level of retouching, gives you the flexibility to make the best choices to meet both your headshot needs and budgetary requirements.
If you are unfamiliar with our Award Winning Headshots, these links to our PROFILE, REVIEWS, and PORTFOLIO will be most beneficial.
The Complete Picture to Headshot Photography will get you up to speed regarding the TIMING of your headshot, and the PRICE.
---
TIMING
The Complete Picture to Headshot Photography would not be complete were we to fail to address the first key component to your headshot – timing.
Headshot Sessions are scheduled every day of the week, except Sunday. Generally speaking, most clients are able to schedule an appointment within a few days of requesting one. Even if we are booked, we will always do our best to carve out time for the last-minute, emergency headshot session.
Saturday appointments, unfortunately, tend to book 4-6 weeks out. If you absolutely require a Saturday appointment, please plan accordingly. You might consider being placed on our waitlist.
After your headshot Session, your Previews will be posted online within 24 hours, if not sooner.
Once we are informed of your favorite expression, your completed digital file will be emailed to you within 24 to 48 hours, depending on the degree of retouching and quantity of digital files ordered.
If scheduled early in the day, it is possible for a headshot to be ready within one. Rush Fees may or may not apply, depending on several factors, which we can identify beforehand.
---
PRICE
There are THREE Key, universal components to the cost of every and any Headshot.
Session – the time and talent to photograph you. Mark Jordan creates every headshot personally.
Image – we offer both Digital Files and Photographs.
Retouching – pre/postproduction refinements and digital manipulation of facial features, clothing, and background.
We provide Headshot Pricing in two approaches:
FasTrak Package with All-In-One Pricing – ideal for those with simple needs, with each Package including the 3 essential components to any headshot: Session, Digital File, Retouching.
Personalized Package with A-La-Carte Pricing – offered for those who have specific needs not met by pre-set packages. Each component of headshot photography (Session, Digital Files, Retouching) is offered and priced individually, and easily accommodates every possible combination. Pricing is identical to All-In-One, except you get to create your own package.
Since The Complete Picture to Headshot Photography provides detailed and thorough pricing options for the 3 essential components to any headshot (Sessions, Digital Files, Retouching), the primary focus of this blog is on Personalized Packages with A La Carte Pricing.
To quickly review our FasTrak Package Pricing, which is simply a combination of A La Carte pricing, please visit out FasTrak Package Pricing webpage.
__________________
1. SESSION
We provide FOUR levels of Session Coverage. Each Session differs in the number of looks, which can either be the number of outfit changes or people in the session. Regardless which coverage best meets your needs, Mark is your personal photographer for all four.
1. Single $50
Where a simple headshot is needed, a Single Look session is your best choice. Single meets the needs of most clients and is by far our most preferred headshot session.
30 Exposures Minimum
1 Outfit – Unique Look OR 1 Person
20 Minutes
2. Double $90
60 Exposures Minimum
2 Outfits – Unique Looks OR 2 People
30 Minutes
3. Trio $125
90 Exposures Minimum
3 Outfits – Unique Looks OR 3 People
40 Minutes
4. Quad $160
120 Exposures Minimum
Not quite a portfolio session but enough exposures to create 4 Unique Looks OR 4 People
50 Minutes
__________________
2. DIGITAL FILES
Four Digital File Formats
A. OPTIMIZED
1. WEB – $75
Web Resolution Digital File (WRDF) 72 ppi
Optimized for posting on the internet, which meets the needs of 99.99% of our clients.
Ideal for all web-posting needs – by far our most popular.
Rights for unlimited posting on websites and social media.
2. HIGH – $75
High-Resolution Digital File (HRDF) 300 ppi – 3-9 MB)
Ideal for business cards, brochures, book covers, etc.
Also available at NO CHARGE with a WEB file purchase.
We will email your HRDF directly to your printer/graphic designer at your request.
B. FULL-FRAME
3. RAW – $195
Unprocessed, Full-Frame digital file, straight out of our camera (4480×6720).
Also knowns as a RAW File, or the photographers "Digital Negative."
Offered for design professionals who require complete in-house production.
4. MAX – $225
Processed, Full-Frame digital file, color corrected, and prepared for publication (4480×6720).
Not only is the Max-File a ready to use, High-Resolution file, it includes the Maximum area of the captured image.
Ideal for design professionals who desire a processed, full-framed high-res digital to complement their in-house production services.
__________________
DIGITAL FILE DELIVERY
Your finished digital image file is cropped to the traditional 5×7 dimension and will be emailed to you directly.
LIFETIME WARRANTY
Our "tweaking" service carries a Lifetime Warranty for as long as you are using the headshot we created for you.
PAPER PHOTOGRAPHS
We also offer a wide arrange of Paper Photographs with 50% off all reprints.
---
Pre & Postproduction Artistry
ONE SIZE DOES NOT FIT ALL
Firstly, though every face requires an application of retouching, we thought it beneficial to our clients to allow them to decide what degree is best for them. Rather than offer a one-size-fits-all approach (as has become the norm these days), we afford our clients the option of choosing what level of retouching is most relevant for them.
Keeping with our tradition of personalized service, we offer three distinct degrees of retouching. Our three levels are designed to accommodate a wide range of facial demands and the ultimate objectives of your headshot.
Regardless of what level of retouching is most appropriate for you, you can rest assured knowing that every detail and stroke of Conversational Retouching is considered and applied to your headshot personally by Mark Jordan.
__________________
WHAT IS CONVERSATIONAL RETOUCHING?
Appropriately applied retouching is designed to render your face when seen on your best day. Your headshot works best when it naturally reflects how others remember your face when interacting with you, conversationally.
Because everyone's peripheral vision is active when conversing with others, faces are not remembered in excruciating detail. However, when viewing an unretouched face in a headshot, this same peripheral vision is disengaged… Suddenly the face is scrutinized as if seen in a vanity mirror! Thus, the necessity for effective, natural retouching.
Here are two links, should you like to discover more about Conversational Retouching:
• CONVERSATIONAL RETOUCHING BASICS
• CONVERSATIONAL RETOUCHING HISTORY

__________________
ADDITIVE VS SUBTRACTIVE RETOUCHING
Subtractive and Additive are nothing more than the pre and post digital manipulations applied to your headshot. A conversational face is best accomplished by a painstaking combination of both retouching techniques.
In brief, we soften and remove the facial features we do not normally notice when conversing with someone (subtractive) while bringing out and lightly enhancing the more attractive/striking features people do recognize (additive).
Conversational Retouching, therefore, is intended to render your face as friends and associates think of you, not to alter your character.
Since a more thorough application of retouching equates to a more conversational appearing face, expertly applied Additive and Subtractive retouching is essential for those who wish to look natural, professional, and at their very best.
__________________
Retouching is a design element that does not lend itself to a quick summation. We offer the following information below for those who are interested and enjoy learning.
Should our retouching details prove too much to absorb, please relax and know we'll help you through, every step of the way. For most, everything you need to know about retouching can be quickly discussed and determined when we meet and/or after seeing your previews (digital "proofs," which we post online within 24 hours of your headshot session).
__________________
All our digital files and encompasses our large/soft studio lighting with pre and post production refinements (primarily color, contrast and clarity along with 60 other fine-tuning considerations).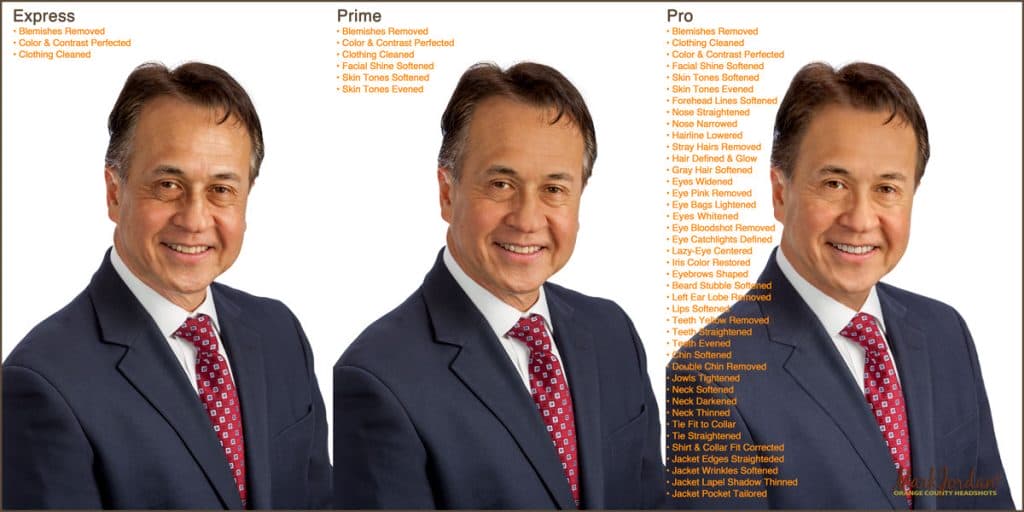 1. Express $ 0
Express includes all the pre/post production refinements of our Basic level plus an additional focus on removing facial blemishes and clothing lint.
2. Prime $ 75
Prime includes Express plus a thorough application of softening skin & facial lines (forehead, eyes), evening skin tones, and vignetting image.
3. Pro $150
Pro Retouching renders you on your best day and is by far our most requested, most complete and most cost-effective level of retouching. Pro offers a fastidious concentration to an accurate portrayal with an emphasis given to perfecting the color, depth, contrast, clarity, brilliance, and pop!
In addition to Prime retouching, every detail in Pro is considered and executed personally by Mark Jordan. Meticulous attention is given to:
eyes – iris color, whites, eyelashes, eyebrows, glare, bags, crows-feet, remove redness/bloodshot, watery
nose – softening, removing redness, pores, blood vessels, spider veins, shine/grease/glare, straightening
teeth – whiten (i.e. remove yellow), fill, straighten/align, even rough edges, remove discoloration
lips – define, lightly soften, add contrast/depth
ears -remove glare/shine, lessen attention
jewelry – remove glare, saturate color, restore clarity/sparkle
clothing – especially collar area, ties, shirt/blouse/jacket contours, smoothing wrinkles, balancing color
stray hairs – around head, ears, nose, chin, forehead
neck/chest– soften lines, removing double chin, thinning, narrowing width, reducing jowls, darkening
hair – highlights, brilliance, sheen, glow; as well as mustache/beard/goatee: shaping, filling, removing strays, coloring
background – lightening-darkening, vignetting, toning, contrast, color, blending, replacing
color – skin tone, glow, contrast, shadow, highlights, brilliance
PREMIER – Add a Digital Background
Premier Retouching, may be added to any of our three retouching options.
$ 50 Add a Stock Photo or a Specified Color
$125 Add a one-of-a-kind, Tailor-Made digital background. It's the ideal choice for those looking to Stand Out From the Crowd.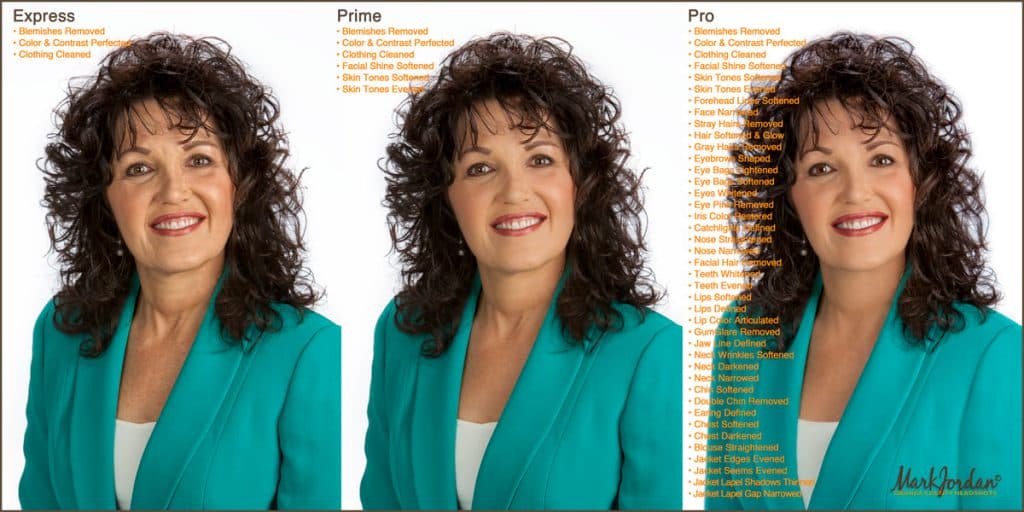 __________________
NO "GOOD – BETTER – BEST."
Please note that our three retouching levels are not seen as "good-better-best," but are rather a genuine approach to accommodate the individual requirements of every face.
WE'RE NOT HAPPY UNTIL YOU ARE DELIGHTED
Determining the degree of retouching best suited for each face is either a function of listening to my client's concerns and attending to their specific requests or simply proceeding according to my aesthetic appraisal. Usually, it's a combination of the two. Regardless, and are happy to tweak your headshot until you are thoroughly delighted. We guarantee our retouching for the life of your image.
---
In the meantime, and as always, should you have questions regarding any aspect of professional headshots or our The Complete Picture to Headshot Photography, no concern is too small.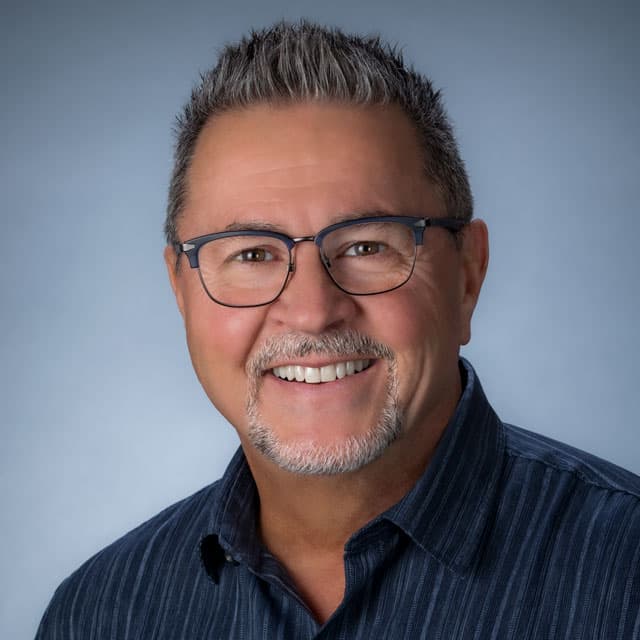 ---
The Complete Picture to Headshot Photography
---
CONTACT US TODAY
When looking for an Orange County Headshots Photographer please call 949-713-4050 or complete our online request form.
---
PRIMARY AREAS SERVED
Orange County Headshots Photographer, Mark Jordan, is internationally recognized and serves all of Southern California, including San Diego County, Los Angeles, and the Inland Empire.
For four decades Orange County Headshots has served and created professional headshots in the cities of Aliso Viejo, CA | Anaheim, CA | Brea, CA | Buena Park, CA | Corona del Mar, CA | Costa Mesa, CA | Coto de Caza, CA | Cypress, CA | Dana Point, CA | Dove Canyon, CA | Fountain Valley, CA | Fullerton, CA | Garden Grove, CA | Foothill Ranch, CA | Huntington Beach, CA | Irvine, CA | Ladera Ranch, CA | Laguna Beach, CA | Laguna Hills, CA | Laguna Niguel, CA | Laguna Woods, CA | Lake Forest, CA | Los Alamitos, CA | Mission Viejo, CA | Newport Beach, CA | Orange, CA | Placentia, CA | Rancho Mission Viejo, CA | Rancho Santa Margarita, CA | Robinson Ranch, CA | San Clemente, CA | San Juan Capistrano, CA | Santa Ana, CA | Seal Beach, CA | Shady Canyon, CA | Trabuco Canyon, CA | Turtle Rock, CA | Tustin, CA | Tustin Ranch, CA | Villa Park, CA | Westminster, CA | Rancho Mission Viejo, CA | Yorba Linda, CA | Las Flores, CA | Modjeska Canyon, CA | Santiago Canyon, CA | Silverado, CA | Emerald Bay, CA |
Contact Us Today
3. RETOUCHING – Conversationally…